Blusson Spinal Cord Atrium
818 W 10th Avenue, Vancouver
Intended Audience
All are welcome!
Join members of the research community and hear from health care leaders about collaboration, innovation and the future of research at VCH.
Speakers: Dr. Rachael Ritchie, Dr. David Granville and Dr. Deepak Kaura
Emcee: Dr. Robert McMaster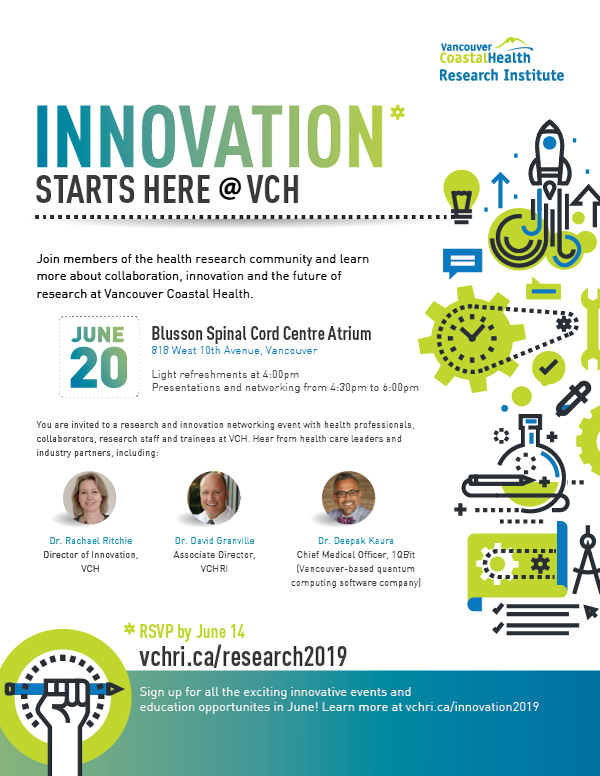 Dr. Rachael Ritchie is the Director, Innovation at Vancouver Coastal Health. She is a champion for innovation, and is working to foster innovation across VCH to improve healthcare. She has more than 20 years of experience in life sciences R&D as a researcher, policy analyst, strategist and leader. She holds a DPhil in Clinical Medicine from Oxford University and completed postdoctoral studies at the Boston Children's Hospital.
Dr. David Granville is the newly appointed Associate Director of the VCH Research Institute. In addition, he serves as a professor in the Department of Pathology and Laboratory Medicine at the University of British Columbia, as well as the associate director of the BC Professional Firefighters' Burn and Wound Healing Group.
Dr. Deepak Kaura is the Chief Medical Officer of 1QBit and Chair of the Board of Joule, a Canadian Medical Association subsidiary. He has served the Royal College of Physicians and Surgeons of Canada as a Subspecialty Chair in Pediatric Radiology and has established a number of startups in the healthcare space. He has held faculty appointments as Associate Professor at Cornell University and the University of Calgary.
Dr. Robert McMaster is the Vice President of Research at Vancouver Coastal Health and Executive Director of the VCH Research Institute.