Quest Diagnostics, one of the world's leading diagnostic companies, has recently launched two new early diagnostic tests for rheumatoid arthritis (RA).
These tests are based on the discovery of a blood protein called 14-3-3 eta which is found in RA patients by Drs. Aziz Ghahary and Ruhangiz Kilani, researchers with the BC Professional Firefighters Burn and Wound Research Group at VCH Research Institute and Dr. Walter Maksymowych from the University of Alberta.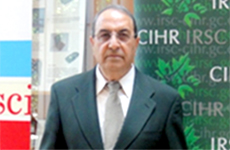 Through the commercialization of Dr. Ghahary's discovery and patent on 14-3-3 eta biomarker, physicians and patients now have a much better chance of diagnosing this debilitating joint disease early on – at a stage when disease progression and disability can often be halted.
"Development of this test fills a gap that previously existed in the early diagnosis of rheumatoid arthritis," says Dr. Ghahary. "Patients will now have access to earlier disease intervention, improving long term function and increasing the likelihood of disease remission."

Currently available tests measuring blood markers are often negative in early RA, leaving patients at greater risk of irreversible joint damage.
The new diagnostic test allows clinicians to monitor changes in protein levels over the course of treatment. Decreases in 14-3-3 eta indicate that a particular drug is working at the molecular level to stop disease progression, allowing clinicians to provide more personalized patient care based on treatment response.  
Dr. Ghahary's discovery, initially funded by the Canadian Institute of Health Research (CIHR), was licensed in 2007 to Augurex Life Sciences, a Vancouver-based biotechnology company. Since then, Augurex has advanced this early-stage biomarker to a new clinically available blood test for the diagnosis and management of RA. The discovery 14-3-3 eta and its subsequent commercialization, first with Augurex and then through Quest Diagnostics, is a great example of how basic science research within Vancouver Coastal Health is improving health outcomes through early detection and treatment.
14-3-3 eta testing has been available in the United States since February 2013 and is now approved for use in Canada and Europe. It is expected to be available to patients in Canada before the end of 2013.