Patient and family involvement critical for improving health literacy.
An individual's skills and capabilities around accessing, understanding, evaluating, communicating, and using health information to make sound decisions for his or her own health all contribute to their level of health literacy. High levels of health literacy are essential to creating a healthy general population as well as saving health care dollars, according to Dr. Iraj Poureslami, associate member of the Centre for Clinical Epidemiology & Evaluation (C2E2), a Vancouver Coastal Health Research Institute (VCHRI) research centre.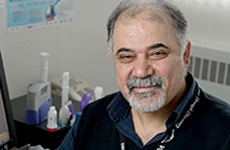 "Greater health literacy means lower rates of hospitalizations and higher rates of successful self-management of chronic diseases," says Dr. Poureslami, who is also a senior research scientist at the Respiratory Medicine Division at UBC Faculty of Medicine. "With better self-management we get a healthier population and health care funds can be redirected to other priorities."
Health literate individuals are not just able to navigate and find information, but they also evaluate and put that information to use when relevant and appropriate. Not using health information (e.g. how to take medications) when necessary often results in incomplete treatments and frequent admissions to hospital emergency departments, which are costly to health care.
"We can see from many studies --mostly in the U.S., Europe and Australia -- that people with low health literacy have the highest rates of morbidity, mortality, and rates of hospitalization," says Dr. Poureslami. "And these individuals are less able to manage chronic diseases, and less confident in taking medications and treatment regimes."
Lowest levels of health literacy among older immigrants
Health literacy is the lowest among older immigrants for many reasons, but primarily because of the language barrier that often exists between themselves speaking their native languages and their care providers.
"Often immigrant patients are too shy to ask questions because of communication problems," Dr. Poureslami says. "Instead they turn to someone they trust – a friend or a family member —who unfortunately may not have sufficient or accurate information. In other words, people are not receiving their information from the proper source – their physicians."
Improving health literacy among older immigrant populations will require a substantial collaborative effort among patients, family members, care providers, government, and policy makers, says Dr. Poureslami. "The health care system has a major role to be more culturally competent in terms of providing information and letting immigrant patients who speak different languages have access to such information," he says. "It goes beyond simply translating information from English into other languages since people need information that is closely related to their own cultural beliefs and practices."
Dr. Poureslami explains that the best way to improve people's health literacy is to involve patients and family members in the development of information and educational materials that would help them better manage their own health. His project/website accomplishes this by showing videos of patients from various cultural backgrounds reenacting visits to health care practitioners and builds confidence in how to address their own health needs best with a physician.
"We need to listen to patients and family members and truly involve them," says Dr. Poureslami.
"Instead of telling them that we are here to help you, it would be far more effective to say, 'Help me understand your situation'."