Modifications to athlete classifications at Paralympics necessary for level playing field.
The 2014 Paralympics marks VCHRI researcher Dr. Andrei Krassioukov's third trip to the Games to study cardiovascular and autonomic dysfunctions that create a disadvantage for some athletes during competition. Dr. Krassioukov, co-director of the International Collaboration on Repair Discoveries (ICORD), hopes that his work leads to additions to International Paralympic Committee (IPC) classifications that would create a more level playing field for athletes.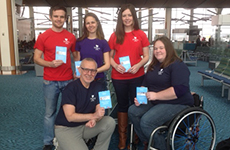 "Participation of wheelchair athletes in sports is callously related to their cardiovascular and respiratory function; arterial blood pressure for people with cervical and mid-thoracic spinal cord injury (SCI) is usually low, which results in high levels of fatigue, making participation in physical activities extremely difficult," explains Dr. Krassioukov, professor at the Department of Medicine at UBC, and physician-scientist at Vancouver Coastal Health's GF Strong Rehabilitation Centre. "It is problematic that in some sports you have athletes with no function below the waist playing against athletes who have full function, or against a non-SCI individual who has no SCI-related cardiovascular issues; this creates huge advantages and disadvantages among competitors."
The purpose of Dr. Krassioukov's research in Sochi is to develop an evidence-based cardiovascular evaluation of wheelchair athletes that could help with understanding cardiovascular health and ultimately sports performance in Paralympic athletes.
How well the body's autonomic or involuntary nervous system functions, including regulation of heart rate and blood pressure, and temperature control, impacts the health, participation levels, and sport performance of Paralympic athletes. For example, an athlete with high cervical SCI could have permanently lower arterial blood pressure and a decreased ability to control temperature below the level of injury, which may interfere with sports performance.
"In winter, some competitors with SCI who can't feel their feet won't feel alpine frost. They don't shiver and they don't have the capacity to increase their body temperature," says Dr. Krassioukov. "Athletes with SCI due to lost or diminished sensation do not have capacity to recognize when that are at risk for a frost bite, whereas other athletes with preserved sensory functions may have all feeling and function, giving them the upper hand."
Currently, IPC classifications are applied in some but not all Paralympic sports and only include motor and sensory function of athletes. Cardiovascular control, which is crucial to athletic performance and affected significantly by SCI, is ignored. Similarly, consideration for how well or poorly the autonomic nervous system functions is not taken into consideration in IPC classifications.
Education-research clinics in Sochi
Dr. Krassioukov and his team in Sochi are holding education-research clinics for wheelchair athletes with spinal cord injury, as well as their coaches, and supporting staff to collect data related to the athletes' cardiovascular health.
"My ultimate goal is to give hope to people with SCI so that they can participate and compete more equally. We want them to have a healthier life and inspire others who can't presently participate in the Paralympics because of too low blood pressure or autonomic dysfunctions," Dr. Krassioukov says.
"We want these individuals to be allowed to participate in the future with the addition of an autonomic component to IPC classifications – but it will take time."
"During the last few years, the IPC worked very hard to design a few studies in this area," Dr. Krassioukov adds. "I'm very lucky that my project focusing on adding an autonomic component to IPC classification was accepted for the last three Paralympic games, however, more funding is desperately need to keep this work going."
More information about the 2014 Paralympic Cardiovascular Health Clinic can be found at icord.org/research/2014clinic/.