Ryan Hartwell recognized for his work to help treat burns and chronic wounds.
Each year over 1600 BC children and adults suffering from serious burns or trauma are treated at VGH and BC Children's Hospital, and many more burn survivors are treated in their home communities. Moreover, 9 million Canadians have diabetes and our population is aging, resulting in wound care gaining importance.
That is why, in December 2014, Vancouver Coastal Health Research Institute (VCHRI) was proud to award the Top Graduating Doctoral Student award to Ryan Hartwell, who is making great strides in wound care research. The award recognizes outstanding trainee role models who demonstrate research excellence, foster research understanding through communications and contribute to VCHRI research culture and environment. Ryan has exemplified these attributes through his work with Dr. Aziz Ghahary at the BC Professional Fire Fighters Burn and Wound Healing Lab, where he focuses on developing innovative solutions for wound healing and transplantation. Ryan's research goal is to create a non-rejectable, patient-ready skin substitute system to treat burns and chronic wounds.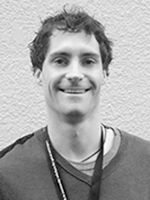 Lifeguarding precipitated Ryan's early interest in wound care, however it wasn't until a close friend sustained serious injuries, while the two of them were rock climbing, that Ryan began to focus on wound healing research. "After an airlift and several surgeries, she was sent home and I took a personal interest in wound healing research," Ryan explains. "Coincidently, around the same time, I began consulting for a sports company that needed scientific and engineering help to develop a wound care product. The consulting prompted ideas for my honours thesis work and then into the founding of a new company, ATS Biotech, Inc., which has developed wound and compression bandage technologies that were sold worldwide."
Ryan has 19 published papers and four patents, and is an in-demand speaker at international conferences who consistently wins awards for his talks on skin tissue engineering.  Ryan will continue his academic research at UBC as a Post Doctoral Fellow while co-founding a new university spin-off company, BirchBioMed Inc. The VCHRI Top Graduating Doctoral Student award will support him in his knowledge exchange activities at conferences by providing $2000 toward his travel.