Chronic diseases represent an increasing burden for both the patients and health care system.
Research has shown that the risk for hospitalization for people with chronic diseases living in rural areas is 60% greater1. 
"Acknowledging the relevancy and severity of the problem, we have developed an internet-based chronic disease management (iCDM) program to fill the need," says Dr. Scott Lear, VCHRI researcher and Pfizer/Heart and Stroke Foundation Chair in Cardiovascular Prevention Research at St. Paul's Hospital. "We want to bring the much needed patient and provider support to the patients' homes and communities."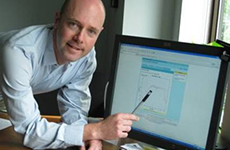 Dr. Lear and his team plan to study the delivery of specialized care services to patients in small urban and rural communities using iCDM. "With the support and help from VCH Research Institute, we are partnering with five health authorities and one health organization to complete the testing and evaluation phases of the program over the next two years" says Dr. Lear.
It is anticipated that the iCDM will improve patient care and reduce health care costs.
---
1
Lear, S 2010,
Utilization of an interactive internet-based platform for managing chronic disease at a distance (iCDM).