Oct 26 2021, 12:00pm – 1:00pm
Virtual
Intended Audience
Investigators, postdoctoral fellows and graduate students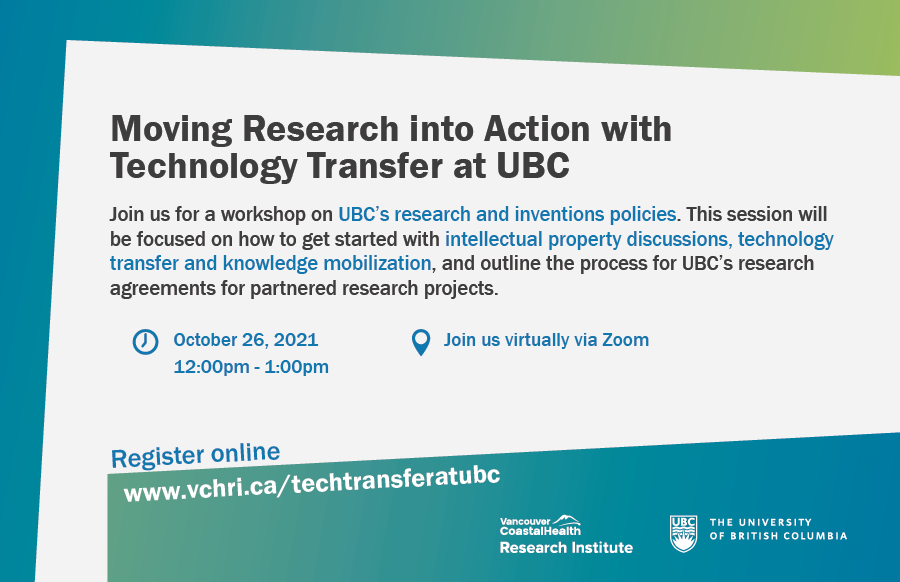 Join us for a workshop on UBC's research and inventions policies. This session will be focused on how to get started with intellectual property discussions, technology transfer and knowledge mobilization, and outline the process for UBC's research agreements for partnered research projects.
This workshop is part of our VCHRI Research Training Series. This series is designed to support the acquisition of advanced skills, techniques and knowledge, and lead to enhanced practices in the conduct of research.
Learning objectives
In this workshop you will learn:
The basics of intellectual property
An introduction UBC intellectual property policy
How technology transfer at UBC works in practice
About the speaker
Brad Wheeler is a Senior Technology Transfer Manager at UBC's University-Industry Liaison Office with 20 years experience in patenting life science inventions and serving as the lead negotiator for UBC's commercialization agreements with various receptors, from big pharma to new UBC spinoffs. He holds a Master of Business Administration from Simon Fraser University.
Registrants will receive information on joining the virtual event two days prior to the event date.