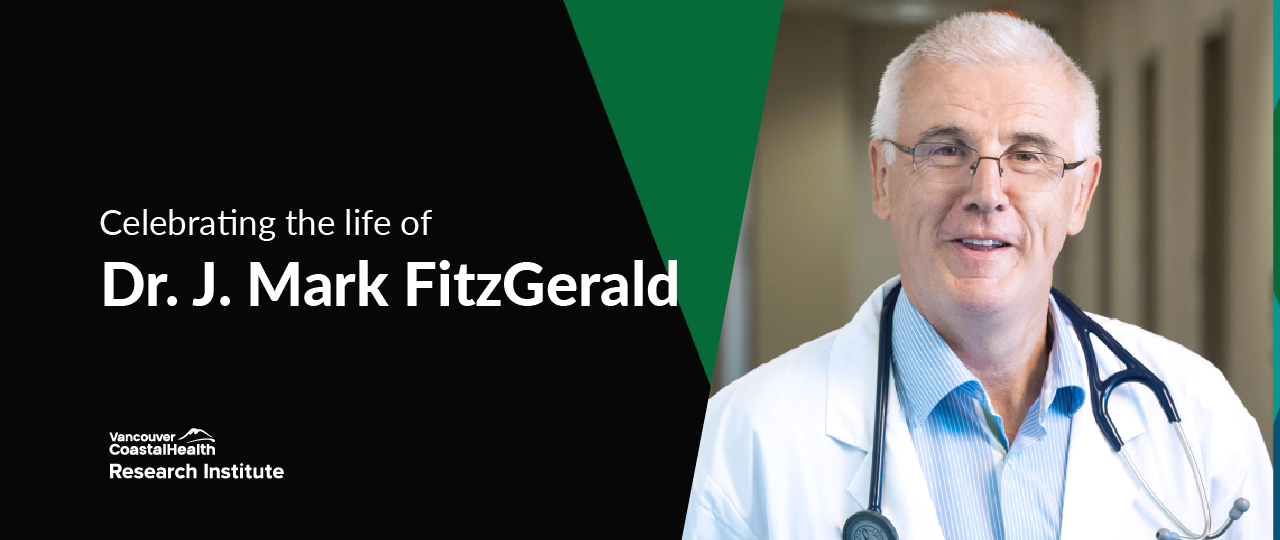 It is with great sadness that we mourn the profound loss of Dr. Mark FitzGerald on January 18, 2022.
Memorial service will be held on Saturday, January 29, 2022 at 1 p.m. Virtual attendance is available via Zoom (Meeting ID: 850 7958 4327 Passcode: 933105).
Click here for more information and to write condolence to the family.
---
A beloved friend, mentor and colleague, Dr. J. Mark FitzGerald was the co-director of the Centre for Lung Health at the Vancouver Coastal Health Research Institute (VCHRI). He previously was the head of the Respiratory Medicine Divisions at both Vancouver General Hospital and the University of British Columbia (UBC).
Dr. FitzGerald graduated from University College Dublin in 1978. After interning and training in internal medicine in Dublin, he worked for two years in Lesotho, South Africa as a general internist. Subsequently, he completed post-graduate training in respiratory medicine and clinical epidemiology at McMaster University before accepting a position on faculty at McMaster University in 1987. He moved to UBC in 1989 and most recently served as a professor of respiratory medicine at UBC.
Dr. FitzGerald was a pioneer in asthma and chronic obstructive lung disease research, leading dozens of clinical trials. His most recent research focused on health literacy and ethnicity in the management of asthma and COPD as well as the economic evaluation of asthma and its cost-effective treatment. His impact in respiratory medicine was enormous, publishing in excess of 600 peer-reviewed papers and editorials in high impact journals such as the New England Journal of Medicine, British Medical Journal, The Lancet, Annals of Internal Medicine and the Journal of the American Medical Association.
Dr. FitzGerald served as chair and member of the CTS Asthma Assembly and was involved in the development of asthma guidelines. He was the lead author of the 2017 CTS position paper on the recognition and management of severe asthma. Dr. FitzGerald was also past chair and member of both the hugely influential Global Initiative for Asthma (GINA) Science Committee and the GINA Executive in which roles he had substantial impact on the way that asthma is managed at an international level.
For his major contributions to the advancement of research, education, and clinical excellence in the field of asthma and Canadian respiratory medicine, Dr. FitzGerald was the recipient of the 2019 Canadian Thoracic Society (CTS) Honorary Lecture Award. In 2019, he presented his lecture "The Evolution of Asthma Care: A 30 Year Perspective" at the CHEST Annual Meeting in New Orleans.
Dr. FitzGerald's sense of humour and friendly demeanour always lightened up a room. He will be greatly missed by countless friends, colleagues, trainees and research staff across the VCH and UBC research communities and abroad.