Dietitian Kathy Romses explores changes coming to the iconic guide and how to apply its healthy eating principles.
Canada's Food Guide is being updated for the first time in over a decade, and evidence-based research is taking centre stage. Kathy Romses, a public health dietitian with Vancouver Coastal Health (VCH), is one of the experts who provided input into the revised guidelines. In honour of World Food Day on October 16 and the new guide, which will be released in 2018/2019, we asked Romses about how technology, new research on healthy eating and awareness about environmental sustainability are playing a bigger role in our modern eating habits. 
Q: I feel like I eat a balanced diet, but should I follow Canada's Food Guide every day to stay healthy?
A: Canada's Food Guide is meant to be a guideline. It is not something that we have to follow in every respect, every day. Dietitians usually suggest choosing foods that fit within the guide around 80 per cent of the time. When attending celebrations, birthdays or cultural events, we can occasionally treat ourselves with foods that fall outside of the guide. Another way to think about healthy eating is through the lens of Vancouver Coastal Health's Healthy Plate, which shows us how we should be filling half of our plate with vegetables, one quarter with whole grains and one quarter with meat and meat alternatives. Add a piece of fruit and a serving of milk or milk alternatives, such as a fortified soy beverage, to complete your meal.
Q: I already use a nutrition app on my smartphone to get my meal advice. Should I still pay attention to Canada's Food Guide?
A: The Canada's Food Guide consultation has been looking at the use of apps for nutritional information. People are now learning about and engaging with foods in different ways—as compared to when guide was last updated—including through apps, online conversations and blogs. I would recommend checking with someone who has an expertise in healthy eating, such as a dietitian, to see if the app you are using is helpful and based on sound science. Anyone can speak directly with a dietitian by calling HealthLink BC toll-free at 8-1-1. You can also email a dietitian directly through their service if you are a visual learner and like to read printed information.
Q: I heard that the new guide is promoting a more plant-based diet. Can I still get enough protein from meat alternatives?
A: A plant-based diet has less of an environmental footprint and it includes many healthy options such as peas, beans, lentils, eggs, nuts and seeds. I recommend that people who choose a plant-based diet include lots of variety in their meals to help them meet their nutrient needs. Enjoyment of food and eating together are also very important. Studies show that when we share food, we tend to eat healthier and feel better. VCH has a good resource about this called Sharing Food, Creating Fun.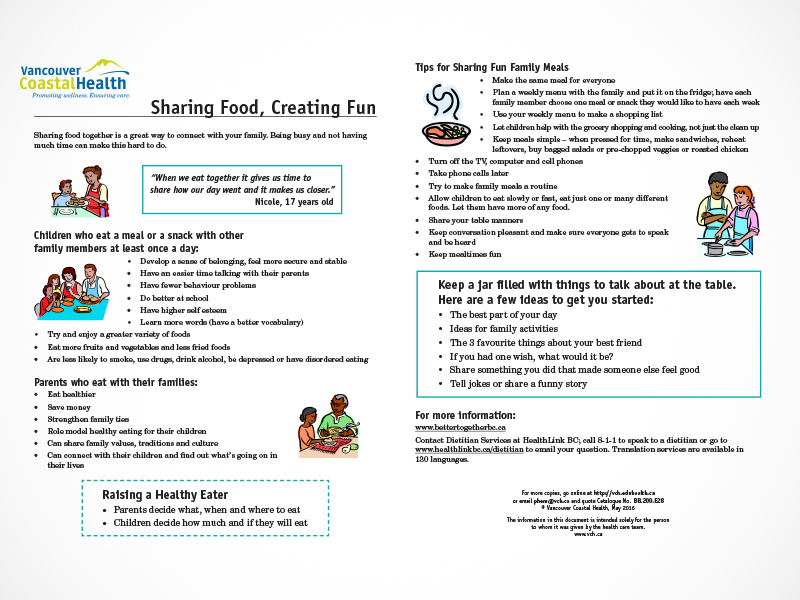 Q: I also heard that dairy and dairy alternative products might be removed from the new guide. Why is that?
A: There has been concern about industry unfairly lobbying and influencing the guide in the past. So, the process for updating the guide and other healthy eating initiatives includes opportunities for more public consultation to make information public and help Canadians with their healthy eating decisions. The other healthy eating topics that are being worked on by the federal government include a national food policy to market foods and beverages to children, sodium, front-of-package labelling and elimination of industrially produced trans fat.
Q: I am thinking about trying a vegan diet. Can Canada's Food Guide help me plan my meals?
A: Veganism requires a little more care and attention to ensure you are getting all of the nutrients you need. For example, calcium, iron, zinc, omega-3 fats and Vitamins D and B12 are not as readily available from plant sources. If someone is considering a completely vegan diet, particularly with young children, I would highly recommend working with a dietitian through HealthLink BC, or asking your family doctor about being referred to an outpatient or consulting dietitian. My Food Guide is an interactive tool that customizes Canada's Food Guide just for you. It has diet-specific information that can help people plan their meals based on particular dietary needs and preferences. There are also online resources, such as the Dietitians of Canada Vegan Guidelines and Vesanto Melina's website.