Nov 30 2022, 2:00pm – 5:30pm
The Regis Room at St. Regis Hotel, 608 Dunsmuir Street, Vancouver, B.C.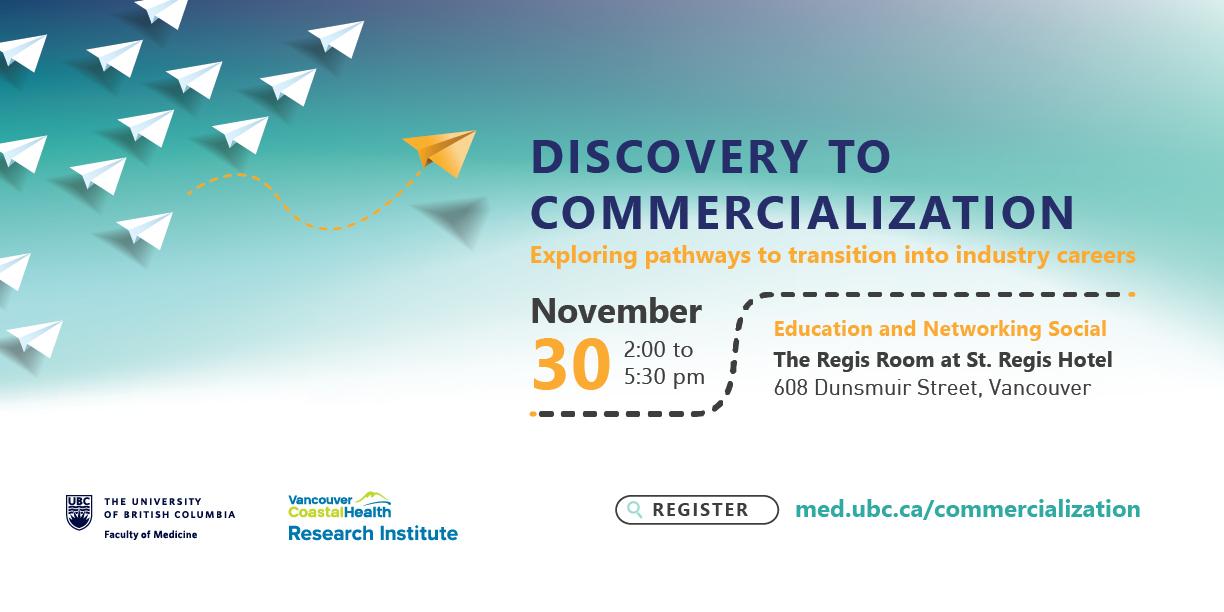 Join us for an informative session and networking social focused on pathways to transition into industry careers. Join the speed mentoring sessions to make effective career choices in industry, and meet with health professionals and industry partners who are dedicated to furthering the commercialization and business development of health research. 
Organized in partnership between UBC Faculty of Medicine and Vancouver Coastal Health Research Institute, the Discovery to Commercialization (D2C) speaker series has hosted conversations that connect people, ideas, and opportunities that are advancing life sciences research and innovation. Through two years of this series, we have been able to better link the academic and industry communities together and enable opportunities for faculty and industry partners to foster new relationships within the life sciences community.
Program at a Glance
Speed Mentoring Session  | 2:00 pm - 3:30 pm
This session includes the following career topics and mentors:
Clinical Trial Services
Sonia Brodie, Vice President, Clinical Research, Centre for Neurology Studies
Strategic Partnerships
Erin Bedford, Head of Academic Partnerships, Aspect Biosystems
Patent Law and Intellectual Property
Kally Singh, Executive Director, Intellectual Property and Contracts, ESSA Pharma
Regulatory
Karen Long, Senior Director of Regulatory, Mesentech Inc.
Research Scientist 
Kathryn Westendorf, Senior Research Scientist, AbCellera
Medical Science Liaison
Valerio Russo, Product Manager, STEMCELL Technologies Inc 
Networking Social  | 3:30 pm - 5:30 pm 
Open to trainees, researchers, faculty and industry partners.