Girls participating in HPV vaccine dosage study invested in connection to research team and making a difference.
Vancouver Coastal Health Research Institute (VCHRI) and Vaccine Evaluation Center research coordinator Jessica Bow has accomplished something challenging for any adult – she's earned the trust of teenagers. Bow is the B.C. site research coordinator for the Canada-wide Quadrivalent Human Papilloma Virus Vaccine Evaluation Study (QUEST), which is a long-term study comparing whether two doses of the HPV vaccine Gardasil® are as effective as three doses for preventing HPV and cervical cancer among adolescent girls. Bow and her research team's success recruiting 2,400 girls in B.C. to QUEST has much to do with building relationships of trust with participants, creating open and adaptive channels of communication, and normalizing discussion of HPV and the vaccine.
"This group of girls, who are all either 14 or 15 years old, are at such a different engagement level than other age groups we've worked with before, so we put a lot of effort into figuring out how to really engage them in the study," explains Bow.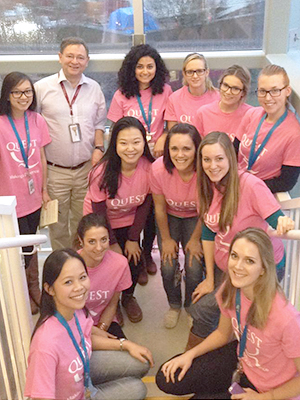 "We're always looking into different approaches to what we do: making consent forms more interesting than a standard form, developing YouTube videos to help the girls better understand their participation in the study, or just being open to answering their questions, even if they're unrelated to QUEST."
"We'll use text messages, emails, and phone calls to follow up with participants – whatever is easiest for the girls and their families. We've found that they're much more engaged if we're on the phone talking with them and they know that we're actual, human beings working on the study and not just researchers trying to get them to do science stuff."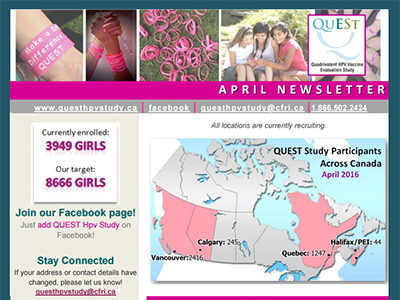 Of all of the methods used to engage participants, the open dialogue and relationships that Bow and the research team foster with the girls and the team's reinforcement that the girls' participation is making a difference in the lives of young women around the world, have been most effective in getting and keeping QUEST participants.
Bow and the research team have become confidantes of sorts to the girls, as is evident in the questions about sexual health that participants send to the research team.
"Some of them have such great questions about sexual health and they can't turn to anyone else – they don't feel comfortable talking to their parents or their family doctors – but they're comfortable talking to me, which I recognize is kind of crazy because they've never met me," says Bow. 
"Just normalizing HPV and sexual health is a really big deal. And while it's not necessarily study-related, I think some of these girls are missing that ability to talk about it, so it's really cool to be able to connect with them."
Finally, one message that Bow and her colleagues drive home for participants is that their participation may contribute to increasing HPV vaccine accessibility for girls all over the world.
"For some of the girls, that's a huge motivator," explains Bow. "We let them know that if all girls only need two doses of the vaccine to last them their whole life, you contributed to that knowledge. And women in developing countries who can't afford the vaccine will be able to because there are fewer doses needed." 
"That really hits home for some of the girls – they feel like they're part of something really big."
Check out QUEST on Facebook, Youtube and Instagram.