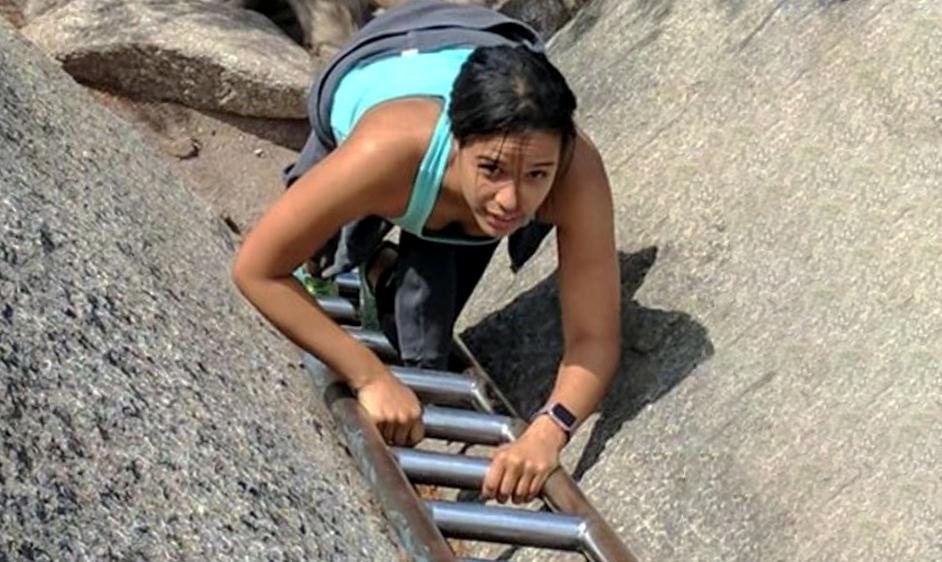 "I participate in research because it has so much potential to help people like me and others; and, it can only move forward with our participation."

– Marisa Nelson, Port Moody
After years of living with an undiagnosed skin condition, 28-year-old Marisa Nelson felt compelled to volunteer for a new study that tested video-based vital sign diagnostic technology on people of varying skin tones. 
Born and raised in Vancouver, B.C., the recent University of British Columbia (UBC) psychology graduate frequently volunteered as a research study participant in her field. However, Nelson's decision to participate in a clinical trial led by Vancouver Coastal Health Research Institute researcher Dr. Kendall Ho was more personal in nature.
"I think that, within medical research, [people with darker skin tones] have not been considered a lot of the time," says Nelson. "This is problematic in that, particularly when it comes to dermatology, skin conditions can appear quite different on people with darker skin."
"It is very important to me to be part of the change to increase medical knowledge and the number of medical images of people with darker skin."
As a participant in Ho's research study, Nelson was video-recorded in a room where Ho and his research team tested the accuracy, reliability and usability of a high-definition video camera connected to the sophisticated VitalSeer software program. 
The research team used this contactless sensing system to take readings of Marisa's and other research participants' vital signs, such as their pulse, blood oxygenation level and respiration rate, aka, blood pressure. The high-definition cameras were able to collect this data from a person's visible features, such as pulses of blood seen in tiny blood vessels on their face.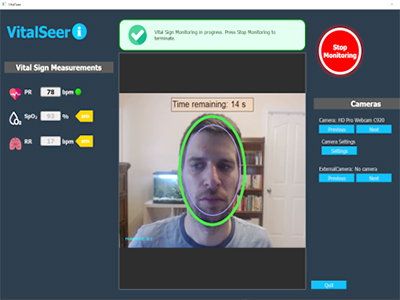 Varying intensities of light were tested on volunteers to determine how different lighting environments could affect the accuracy of the software's vital signs readings.
Ho's contactless sensing approach could one day be used to remotely diagnose the presence of illnesses, such as COVID-19, as well as the stages of disease progression.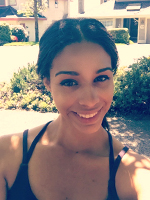 "Virtual care has been growing in popularity over the years, but the challenges of COVID-19 pushed the medical field to go online overnight," says Ho.
"So far, our research has shown that the contactless sensors are returning very similar results to the traditional gold standard forms of vital signs detection."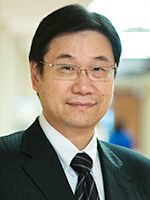 "This is the first step in developing this technology," Ho adds. "Working together with engineers and other clinicians, we can better understand the clinical context and potential gaps that may need to be filled to provide better virtual care." 
A need to expand the diversity of medical images
The proper representation of varying shades of skin is a growing area of importance within the medical community, including dermatology, and one that both Ho and Nelson hope to shed more light on through this research project. 
A study published in 2018 found that, of the 4,146 clinical images from medical textbooks that researchers analyzed, around 74.5 per cent were of patients with lighter skin tones, 21 per cent represented medium skin tones and a mere 4.5 per cent represented darker skin tones. 
"When we conduct research, we want to make it applicable to as many people as possible." 
"Greater Vancouver is a diverse place, which has made recruiting participants for this study from different ethnic backgrounds and with varying skin tones much easier. It also underscores the importance of their inclusion in research studies such as this one," notes Ho.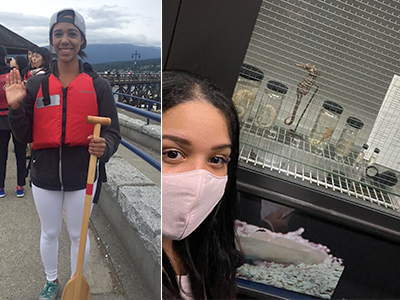 Having experienced a lingering skin condition in the past, Nelson recalls her frustration when searching for answers and encountering a lack of images of people with skin similar to her own to provide a comparison. Expanding the face of medical research and diagnostic images can help bridge this gap, she says.
"For me, it feels good to be included," states Nelson, who plans to pursue studies in occupational therapy next. 
"By being invited to participate in this research study as a person of colour, I felt as though I was seen and being made an important consideration in medicine, which was a really important moment for me. It is so awesome to be part of this change."
Ho invites members of the community to help in the development of innovations in easy-to-use digital health tools. Learn more about his research and opportunities to participate.
This is one patient's story of participating in a research study. Your experience may differ. Learn about clinical trials before participating.