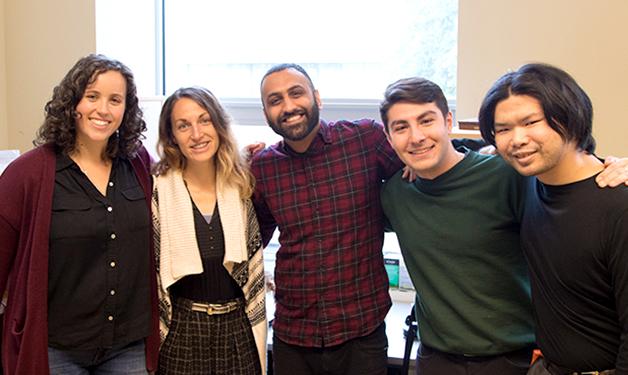 Research staff and students put their best foot forward in the study of human locomotion.
Lab members put research in motion. (L-R) Alison Williams, Emily Deegan, Raza Malik, Gevorg Eginyan and Mason Chow
At the International Collaboration on Repair Discoveries (ICORD) research centre, members of Dr. Tania Lam's laboratory are studying human locomotion and walking recovery in an effort to improve people's functional health outcomes and quality of life following a spinal cord injury (SCI).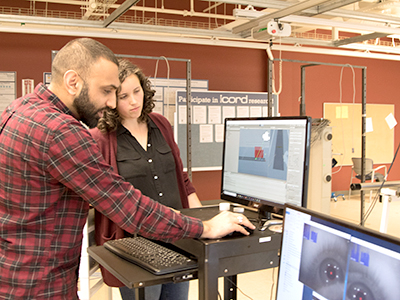 With tasks and priorities changing to meet the needs of each project, Dr. Lam inspires her staff to gain experience in as many aspects of research as possible. 
"Dr. Lam trains her researchers to be independent and well-rounded in their skillset," says research manager Alison Williams. "She ensures that everyone working in the lab feels confident in tackling all stages of the research process."
The team's goal is to advance knowledge and understanding of the human nervous systems, which will inform researchers' efforts to develop new rehabilitation interventions for people who have experienced a neurological injury that affects their ability to walk. New rehabilitation approaches for patients may lead to better health outcomes and improved quality of life for people living with an SCI.
"The Blusson Spinal Cord Centre really is a community," says PhD student Raza Malik. "Aside from being in the lab, we get to work in the Physical Activity Research Centre. That allows us get to know the SCI community and engage with people who could participate in our studies."
A unique aspect of the lab is that it is able to accommodate the researchers' diverse scientific interests and allows them to pursue a variety of research questions about the relationship between the nervous system and movement. 
The lab engages in research with the latest technologies like the robotic exoskeleton that assists people with standing up and walking. Williams is currently using the device in her research to learn how walking can train the pelvic floor muscles and ultimately improve bladder control.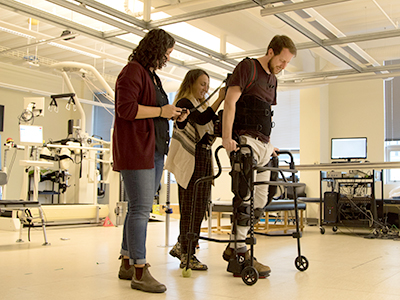 Another technology-based study is using virtual reality (VR) technology to look at the influence of peripheral vision to accomplish movement. This study will enable researchers to examine what people pay attention to in the space in which they walk. 
For this study, participants wear a VR headset while walking in a virtual environment. Through their work, the researchers hope to better understand the role of vision in walking and eventually develop new rehabilitation interventions for people with partial paralysis. The study has also allowed staff to compare who has the best eye lashes, thanks to the eye movement tracking camera inside the VR goggles.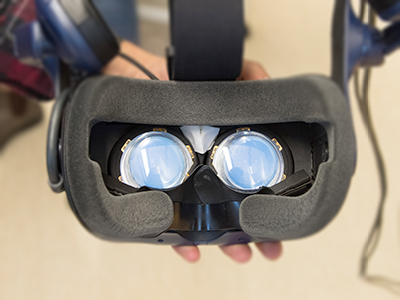 Despite being a busy lab, the team always finds time for a coffee break–whether that be trying a new coffee brewing method or going for a quick walk to a cafe nearby.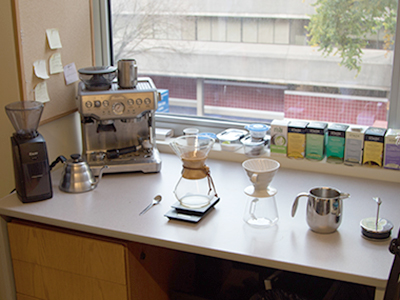 "We have a lot of fun as a group and these mini breaks give us a time to chat not only about our research, but to get to know each other as well," says Williams. "We are all so fortunate to have the opportunity to work and study here at ICORD."