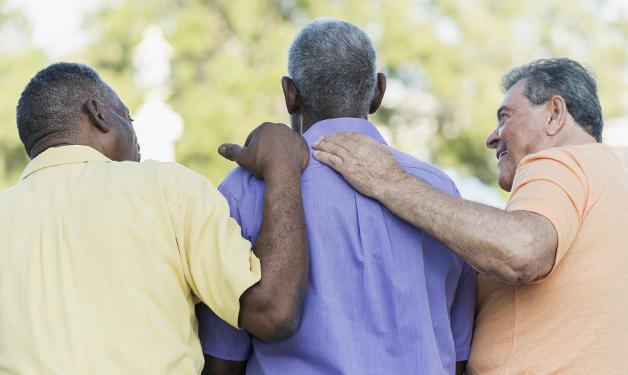 Researchers are assessing a program that connects prostate cancer patients and their loved ones with prostate cancer survivors and caregivers.
Survival rates for prostate cancer patients are high, but a diagnosis often comes with life-changing decisions and consequences for men and their loved ones. A new joint research study on peer navigation could give more prostate cancer patients, as well as their support system, the opportunity to be paired with a prostate cancer survivor or caregiver who can provide emotional and informational support. 
"A diagnosis of prostate cancer is emotionally laden, and many patients may feel unsure or uncomfortable about discussing their treatment options, feelings or symptoms before and after treatment," says study lead and Vancouver Coastal Health Research Institute affiliated researcher, Dr. Arminée Kazanjian.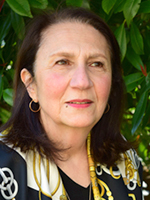 Kazanjian's research examines the True North (TrueNTH) Peer Navigation Program—created and funded by the Movember charity—in a Vancouver, BC context. The study assesses the program's effectiveness as an additional support mechanism for prostate cancer patients and their loved ones and caregivers.
"Patients may wonder about side effects from medication or surgery, such as incontinence, and how that can affect their lives," says Kazanjian.
"Talking to someone who has been through a similar experience can help ease concerns."
The Peer Navigation Program starts with training prostate cancer survivors and caregivers on how to be volunteer peer navigators, explains Kazanjian. After completing six weeks of learning such things as communication and helping skills, along with about ethical, privacy and confidentiality considerations, peer navigators are given a profile on the TrueNTH web portal. 
Prostate cancer patients and their loved ones can browse profiles to determine the best match based on their unique circumstances and needs, such as the type of prostate cancer or treatment a peer navigator has experienced. Once matched with a peer navigator, meetings are organized through web chats, over the phone or face-to-face, depending on the needs of the person.
"This program may well fill a significant gap in care, and our study will help determine the effectiveness of this novel approach in a Canadian setting."
One-to-one support can open doors for people affected by prostate cancer 
Around one in nine men will receive a prostate cancer diagnosis at some point in their lifetime1. Most men will go on to live for many years after a diagnosis; however, several may find it challenging to discuss their questions or concerns with nurses and doctors in clinical settings, notes Kazanjian. 
Hear Kazanjian and  other experts, as well as peer navigators, discuss the TrueNTH Peer Navigation Program in this video:
"Men are often less likely to want to talk about their prostate cancer with a nurse or in discussion groups, or even with a loved one," she says. "This can lead to anxiety and depression, which can have a significant impact on the quality of life of patients, family members and caregivers." 
A one-to-one setting with a peer can ease anxiety and make it easier for patients and their supporters to open up about how they are feeling, states Kazanjian. 
Over 30 prostate cancer patients or caregivers in Greater Vancouver have participated in Kazanjian's study to-date, and recruitment has resumed after a hiatus due to COVID-19.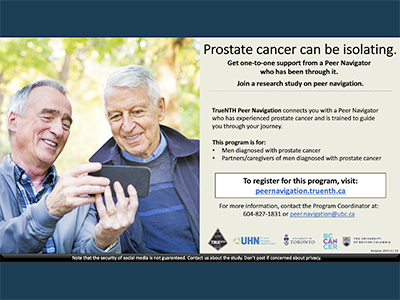 "Preliminary results show that more than half of study participants reported that the TrueNTH Peer Navigation Program either met or exceeded their expectations for support," Kazanjian says. 
"They saw tremendous value in being able to speak to someone whose direct, personal experience helped them anticipate and prepare for challenges encountered during their cancer journey."
To learn more about the program and how to participate, visit peernavigation.truenth.ca or contact the program coordinator at 604.827.1831 or peer.navigation@ubc.ca.