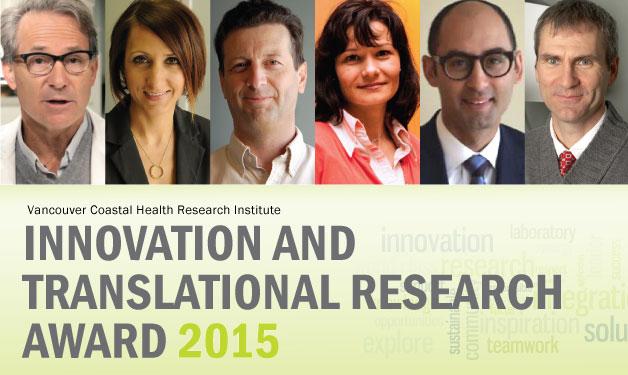 Congratulations 2015 Innovation and Translational Research Awards recipients!
Vancouver Coastal Health Research Institute (VCHRI) is proud to play a role in bringing the benefits of health research to patients with the 2015 Innovation and Translational Research Awards. This year's six recipients are putting new knowledge into practice, implementing research outcomes, and turning discoveries into commercial opportunities.
Congratulations to the 2015 Innovation and Translational Research Awards recipients:
VCHRI internal grants and awards program, which includes the Innovation and Translational Research Awards, is an important tool for fostering and developing research activity at VCH.  VCHRI and its funding partners address emerging needs and opportunities identified by researchers across VCH by supporting research projects. The 2015 Innovation and Translational Research awards are supported by VGH & UBC Hospital Foundation,  Providence Health Care Research Institute, Vancouver Acute (VA) Medical, Dental and Allied Staff Association and VCHRI.
---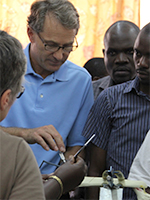 At over $20,000 each, surgical drills are often unaffordable in developing counties. Instead, hand drills are used, which can lead to infection, complication, or disability. Dr. Blachut and his team have a solution. They have designed a sterile cover that makes a $150 hardware store power drill safe for surgery at a fraction of the cost. Initial studies have brought encouraging results and testing in several countries has been met with enthusiasm, but before the drill cover can be commercialized for use overseas or during disaster situations closer to home, cleaning and sterilization protocol needs to be validated.
"The validation of the cleaning and sterilization protocols is one of the last steps in the commercialization of the Drill Cover," says Dr. Blachut. "Once it's completed we can get into the mass production and distribution of these devices. The need for these is huge in the underdeveloped world and their availability will hopefully have a great impact on the number of cases that can be performed, the facility with which they are done, and the quality and safety of the surgeries."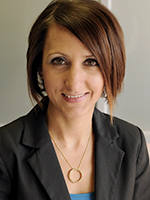 Up to 20 per cent of B.C. women of reproductive age are affected by provoked vestibulodynia (PVD), a chronic and intense genital pain. But because there are no visible signs of the condition, many women suffer for years before being diagnosed. With private donor funding for infrastructure, Dr. Brotto and two gynaecologists who are experts in managing vulvovaginal pain created North America's first Multidisciplinary Vulvodynia Program (MVP) at VGH, allowing women to receive intensive, coordinated, and multidisciplinary care over 10 weeks.
"With this funding, we will be able to look at which components of our program contribute the most to improvements in women's pain, matching patient characteristics to treatment. There are many novel research ideas that will emerge as our own findings emerge," says Dr. Brotto. "With the VCHRI award giving us the ability to hire a dedicated research associate, we will be able to carry out very sophisticated research that goes from clinic to practice. We have also integrated knowledge translation activities planned throughout the grant period as we feel strongly about disseminating our science to stakeholders and women themselves."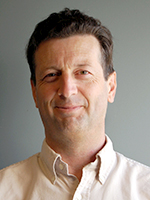 Vulvar cancer – vulvar squamous cell carcinoma (SCC) – isn't a single disease. Vulvar cancer linked to the Human Papilloma Virus (HPV) is distinctly different from cancer not caused by the virus. There is relatively little data available specifically comparing these two subsets of vulvar SCC, but Dr. Gilks hypothesizes that the cancers that arise because of the viral infection are less aggressive than those unrelated to HPV. His study will focus on immunostaining for p16, which correlates with HPV status, and can be routinely done in clinical practice, at minimal cost, and without delaying diagnosis, using equipment already in place in diagnostic laboratories.
"We believe that it will be possible to more effectively plan the extent of surgery for women with vulvar cancer, so that women with less aggressive cancers related to HPV can have smaller operations, with fewer complications, while still enjoying an excellent outcome," says Dr. Gilks. "Those with more aggressive cancer, unrelated to HPV, can proceed directly to more extensive surgery. Our findings will help to guide the appropriate treatment for women with vulvar cancer."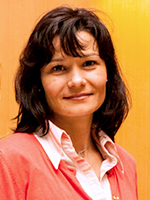 Research suggests exercises improve signs of Parkinson's disease (PD), which results from the gradual loss of dopamine (DA) in the brain, but the mechanism of improvements is poorly understood. In a pilot study, the Pacific Parkinson's Research Centre (PPRC) at UBC found that people with PD who exercised over their life had greater DA release than those who did not regularly exercise. Studies also show that programs that follows the principles of Parkinson Wellness Recovery (PWR!®) have better outcomes in PD than generic physical activity.
"This project is a chance to increase our understanding of the brain's response to exercise in PD," says Krasteva. "Our project will see patients placed into one of two exercise programs: 3 months of aerobics class, then 9 months of a PD-specific community based exercise class; or 3 months of a stretching class, then 9 months of self-directed exercise in the community. We will study the therapeutic mechanism of a 3-month structured exercise, and the effect of a long-term PD-specific community-based exercise on walking, Quality of Life, and mood compared to self-directed exercises."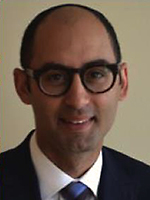 Treating advanced head and neck cancers often involves removing sections of the patient's upper or lower jaw. Bone must then be transplanted from the fibula or scapula to reconstruct the defect and restore facial contour and functions such as speech and swallowing. 3D printed models based on computer simulation have great potential in providing efficient and quality reconstructions and improving patient outcomes. This study will bring the 3D printing process in-house by designing customized software, allowing for control over coding, greater customization, economic savings, and improved workflow.
"Bringing the 3D printing process in house will allow us to manipulate the reconstruction algorithm to study different reconstructive options as well as determine postoperatively how the intraoperative reconstruction compares with the preoperative reconstructive plan," says Dr. Prisman. "It will also allow us to fine-tune the algorithm to provide for better reconstruction and allow us to study our results objectively using our customized software. We will also have multiple side-projects based on this study. For example, we will study these 3D models and their impact on informed consent for our patients as well as their use as an education tool for resident surgeons in training."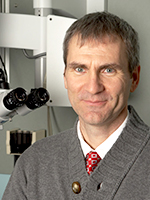 A cochlear implant (CI) can help deaf patients hear again by stimulating nerve endings inside the inner ear. However, better sound quality could potentially be achieved by improving the interface between nerves and electrode through the use of stem cell therapies. The obstacle is in getting the stem cells to the right location in the ear. Dr. Westerberg's project, in collaboration with Cochlear Corporation, a CI company, and using technology developed at UBC with Dr. Kevin Gregory-Evans (Ophthalmology) will explore whether pairing a magnetic CI with magnetized mesenchymal stem cells (mMSCs) will help attract the mMSCs into the cochlea where they can bring benefits.
"Almost all hearing loss is as a result of loss of the sensory cells in the organ of hearing, the cochlea," explains Dr. Westerberg. "Although stem cells are cells with the potential to become these hearing sensory cells, the challenge so far has been getting them into the ear so they could then become hearing cells. We are trying a new technique, capitalizing on existing technology, equipment and expertise locally and applying it to a new area, the field of hearing loss."
This study is jointly funded by VCHRI and Providence Health Care Research Institute.