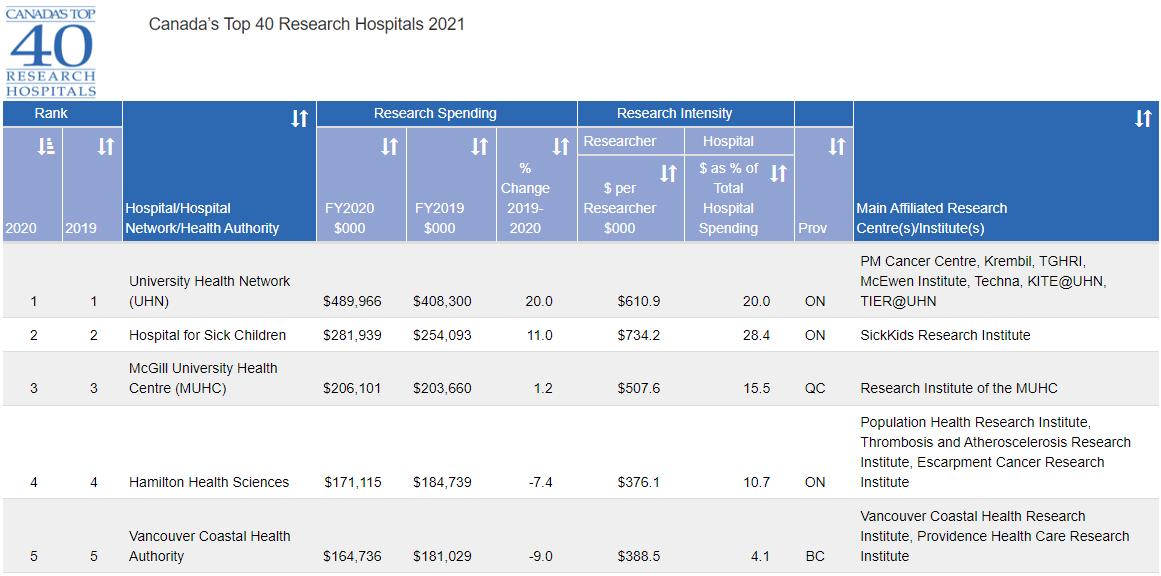 $165 million annual funding places Vancouver Coastal Health and Providence Health Care among top five research hospitals in Canada.
Research Infosource Inc., a Canadian R&D consulting firm, has released its annual ranking of Canada's top 40 research hospitals. The Vancouver Coastal Health Research Institute (VCHRI), combined with Providence Research, is ranked fifth, with $164.7 million in research funding for 2021.
Research funding allows VCHRI to compete and attract leading research clinicians and scientists from around the world. VCHRI's diverse research community includes over 2,400 members comprising principal investigators, research staff as well as medical, graduate and post-graduate trainees.
Home to nationally and internationally renowned research centres and programs, VCHRI strives to be at the forefront of cutting-edge research, technologies, policies and clinical trials aimed at improving health outcomes for people in British Columbia and beyond. Research discoveries and technologies also foster economic benefits for the province through the generation of new jobs, technology transfer, spinoff companies as well as training, recruitment and retention of future leaders.
"The research culture at VCH is grounded in knowledge exchange, collaboration and innovation," says Dr. David Granville, VCHRI executive director.
"As the top funded hospital-based research organization in Western Canada, VCHRI is rising to the challenges by focussing on accelerating research in alignment with the health care needs of patients and the population at large."
The top five in Research Infosource's ranking includes University Health Network, Hospital for Sick Children, McGill University Health Centre, Hamilton Health Sciences and Vancouver Coastal Health. Total research revenue for Canada's top 40 research hospitals was $3.06 billion in 2021.