Staying in a hospital or care home can be a stressful experience for people with cognitive impairment.  A familiar face and the reassuring voice of a trusted family member can offer a sense of safety and peace.  Yet family members can't always be there in person to offer this comfort.   
At times, an unfamiliar care environment can cause distress and lead to responsive behaviours.  For example, patients may resist care, reacting to staff in fear and/or anger. 
Managing these situations is challenging and nurses are trained to use both behavioural and pharmacological approaches when they arise.  Our research has demonstrated that a new type of behavioural intervention can dramatically decrease these kinds of behaviours and reduce the need for sedating medications.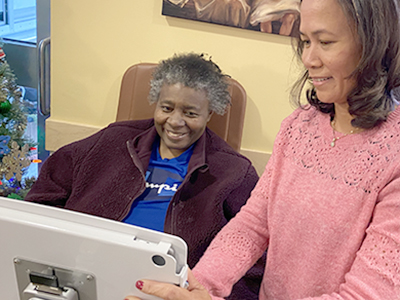 On this website care providers and families will find resources further discussing the use and making of these videos and how they can be implemented in the care setting.  We hope you find this toolkit useful.  Please click the links below and contact us if you have any questions or concerns. 
The Toolkit
Our toolkit consists of three components:
A video which explains how family members can make an effective personalized video message:
Additional Resources
Mario, an individual with lived experience of dementia, explains what may happen to patients with dementia in a care environment and how a personalized iPad message can offer some comfort:  
Neil, a family member, explains how a personalized iPad message may help to support connections between the person with dementia and family in a care setting:
Cheryl, a nurse leader, explains how the iPad project was implemented at Richmond General Hospital:
Our first paper was published in 2018.
Our most recent paper was published in BMJ.
Contact
If you have any questions, please email us at lillian.hung@vch.ca.