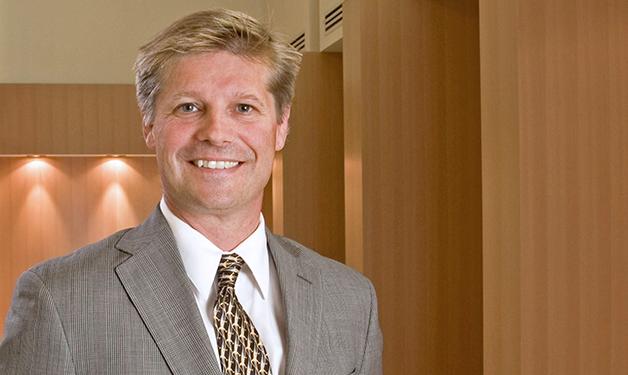 Director of the Vancouver Prostate Centre recognized for his leadership in prostate cancer research.
Dr. Martin Gleave was recently named a member of the Order of Canada, one of the country's highest civilian honours, for his leadership role in developing new treatments for prostate cancer and for his research on the mechanisms involved in the development of treatment resistance in cancer.
"It was a wonderful surprise and a huge honour to receive this appointment," says Gleave. "This recognition is a positive reflection of the quality of science and researchers that exist within our institutions in Vancouver, and it is something I am proud to be part of."
Gleave is known throughout the world as a leader in the field of prostate cancer research. His contributions to the field include finding new treatments to combat therapy-resistant prostate cancer cells. He has published 500 papers with over 37,000 citations and attracted over $100-million in research funding.  
A clinical surgeon and oncologist by training, Gleave is a co-founder and the Executive Director of the Vancouver Prostate Centre, a Vancouver Coastal Health Research Institute researcher, a distinguished professor and head of the Department of Urologic Sciences at UBC and a British Columbia Leadership Chair.
Gleave is renowned not only for his research and clinical acumen, but also for launching several entrepreneurial initiatives with the aim of finding better treatments and outcomes for prostate cancer patients. He has patented several anti-cancer drugs, founded OncoGenex Pharmaceuticals—which was awarded Canadian Biotech Company of the Year in 2010—and co-founded Sitka Biopharma, TRiADD Therapeutics and Sustained Therapeutics.
Throughout his career, Gleave has been recognized for displaying leadership and excellence in his field. Among other awards, he is the recipient of the Richard D. Williams MD Prostate Cancer Research Excellence Award and Eugene Fuller Triennial Prostate Award from the American Urological Association; the Barringer Medal from the American Association of Genitourinary Surgeons; the BC Biotech Innovation and Achievement Award; and the BC Innovation Council Frontiers in Research Award.
"This is all part of a journey where there is still much to be done," says Gleave. "Our research team at the Vancouver Prostate Centre has a lot of exciting opportunities coming up in the near future." 
Quick Facts
Prostate cancer is the most diagnosed cancer among BC men and the second leading cause of cancer deaths.
The Vancouver Prostate Centre (VPC),  hosted by Vancouver Coastal Health Research Institute and the University of British Columbia, is a global leader in cancer research and care and the National Centre of Excellence in Canada.
VPC houses the largest program of its kind in Canada.
VPC's outpatient clinic sees thousands of men in British Columbia each year.