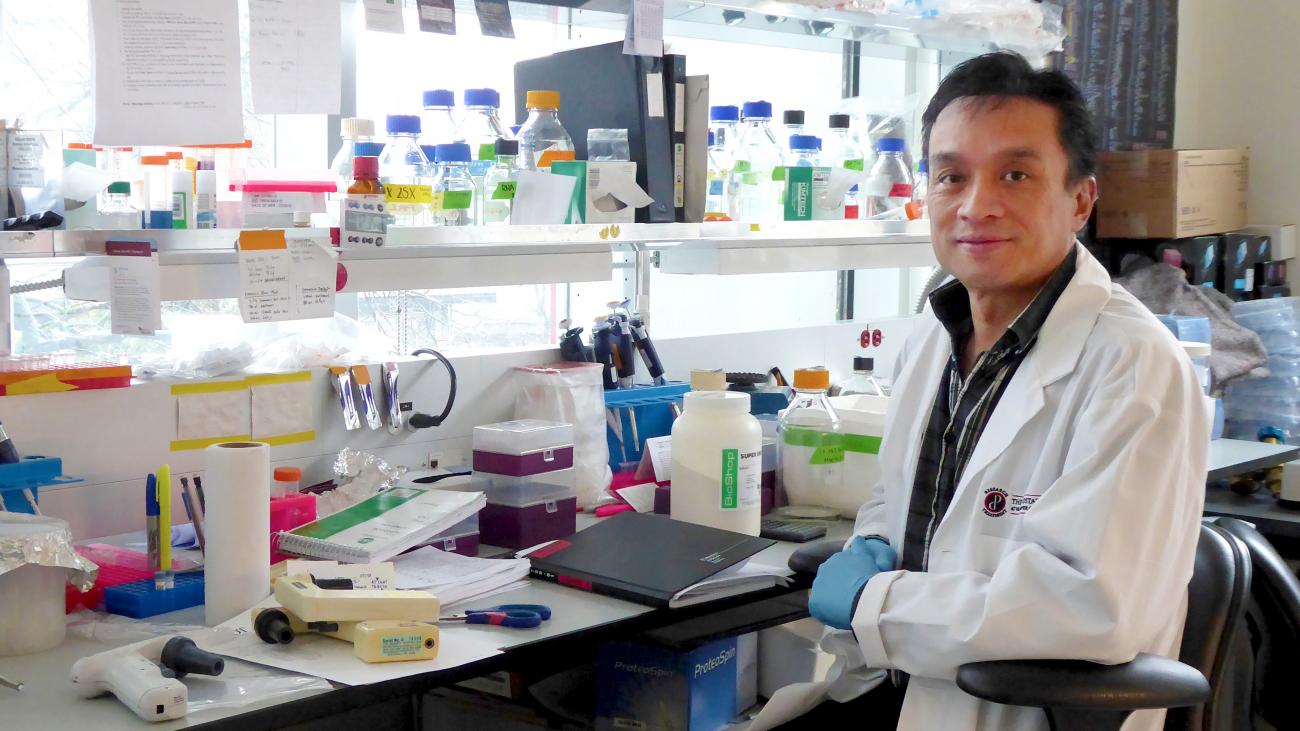 News release | January 18, 2018
Vancouver, BC – For years, researchers have investigated approaches to prevent cancer-causing cells from multiplying in the body. Now, Vancouver Prostate Centre (VPC) scientist Dr. Christopher Ong and colleagues have discovered a critical gene that drives cancer growth. From this discovery, they developed a new protein-based medication that prevents unhealthy cell growth that leads to prostate cancer, and potentially other cancers. 
"This is the first-of-its-kind multi-receptor tyrosine kinase targeted therapeutic protein medication that can block prostate cancer growth," says Ong, who is also a senior research scientist at Vancouver Coastal Health Research Institute (VCHRI) and associate professor in the Department of Urologic Sciences at the University of British Columbia.
"We are optimistic that this new medication may have an enormous impact for future care," says Ong.
Prostate cancer is the most common cancer and third leading cause of death among Canadian men, according to the Canadian Cancer Society. While early diagnosis can increase the odds of a positive outcome, the common treatments of androgen receptor inhibitors, radiation and chemotherapy come with their own set of challenges, including urinary, bowel and erectile dysfunction.
"In our tumour models, we have shown that our new targeted drug significantly delays development of treatment-resistant forms of prostate cancer," says Ong. 
New treatment could help patients with prostate cancer and other cancers
In their paper—published in the February 2018 issue of EMBO Molecular Medicine and featured on the cover of that issue of the peer-reviewed medical journal—Ong and colleagues explain how their research took the novel approach of targeting a gene called SEMA3C, which they discovered to be an important driver of cancer cell growth. Ong describes SEMA3C as the "master key," as it is pivotal for unlocking the development potential of the cells of an embryo—instructing the formation of the embryonic heart and neural development. After an embryo is fully formed, SEMA3C normally goes dormant inside the body.
Problems arise when cells begin to produce SEMA3C afterwards. Once reactivated, SEMA3C becomes a cancer-causing growth key that binds to cells and unlocks instructions that tell cells to grow and divide.
"SEMA3C is the key that turns on multiple cancer programs in a cell," explains Ong. "It is inappropriately telling cells that they have to grow a whole new organ—for example, a whole new prostate or breast."
Thanks to their research, Ong says that their team has discovered a way to block the reactivated SEMA3C master key that turns on cancer-causing programs in cells.
"We have been able to slow or stop the growth of prostate cancer by using a new medication we developed that turns off SEMA3C."
The new medication, known as PB1SD:FC, creates a 'lock blocker' that prevents the SEMA3C master key from binding to cells and instructing them to grow.
The lock blocker is an antibody Fc fusion protein that is well-established as an approach used in the treatment of other conditions, such as rheumatoid arthritis. However, this is the first time it has been used to block SEMA3C.
"We were the first to discover that SEMA3C is a key driver of multiple receptor tyrosine kinases that activate different instructions in a cell," says study co-author Dr. Martin Gleave, Director of VPC and a newly appointed member of the Order of Canada. "By blocking SEMA3C, multiple pathways that can lead to cancer are also blocked, which could have implications for the treatment of other cancers, such as breast, bladder, colorectal and lung." 
Ong says he and his team are now preparing for human clinical trials to see whether PB1SD:FC can effectively combat prostate cancer in humans.
"We are very excited about the potential of this treatment," says Ong. "The next step is to get it to patients."  
This work was funded by grants from Prostate Cancer Canada, Terry Fox Foundation, Canadian Cancer Society Research Institute, Cancer Research Society, the NIH Pacific Northwest Prostate Cancer SPORE, Prostate Cancer Foundation British Columbia, and National Centres of Excellence of Canada.