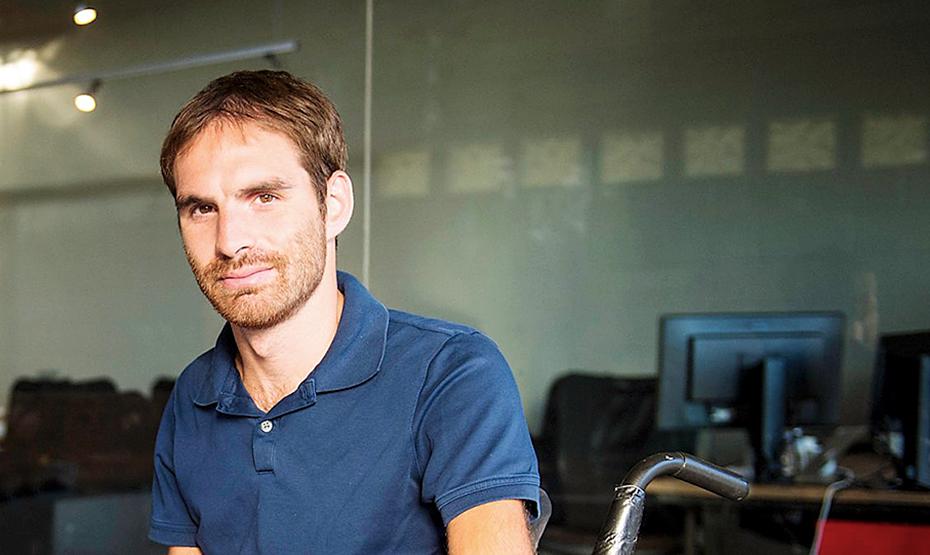 "I say yes to participating in research because it has been such a positive experience for me and I know it can have a profound effect on other people."

– Aaron Coret, Vancouver
Aaron Coret was 20 years old when a snowboarding accident in Whistler changed his life forever. "I was big into freestyle skiing and snowboarding and was doing what I lived for at the time. When I took off this one jump, I lost control right away," Coret recalls. 
"As soon as I hit the ground, my whole body went numb. I remember lying there wondering how my life would be different now."
Coret's C5/C6 vertebrae—located in the lower part of his neck—were crushed from the impact of the fall. He lost the ability to move his legs and motor control in his arms. The accident also severed the connection between his brain and bladder, an injury that Coret would discover can lead to a common condition among spinal cord patients called autonomic dysreflexia (AD). 
AD can result in blood pressure reaching dangerously high levels—increasing the risk of stroke and heart attack—in reaction to an irritant such as a full bladder or tight-fitting clothing around the waist. 
On top of that, a problem with bladder stones led Coret to switch from an intermittent to an indwelling catheter. Coret soon learned that indwelling catheters come with several downsides, including discomfort, an increased risk of infection and bladder cancer and difficulties surrounding sexual intercourse. 
"I was told it would be very difficult to go back to an intermittent catheter. I gave up hope of that reality ever changing."
Then Coret found out about a new clinical trial that was testing the efficacy Toviaz. A well-established medication to treat overactive bladders, Toviaz had yet to be proven effective at controlling AD in spinal cord patients. Coret was intrigued, and signed up for the trial in the hopes that it could help free him from the indwelling catheter and spare him from AD.
Improving the lives of people with spinal cord injuries
Vancouver Coastal Health Research Institute researcher Dr. Andrei Krassioukov has witnessed the invisible concerns of spinal cord patients for over 40 years. The associate director and scientist at ICORD (International Collaboration On Repair Discoveries) knows all too well that spinal cord injuries can shorten lifespans by 15 years and that cardiovascular disease is the leading cause of death in this patient population. 
Bladder dysfunction is one of the most serious conditions for spinal cord patients because of its association with life-threatening AD. Numerous medications are used to control AD, but many come with troublesome side effects. Toviaz has a high degree of efficacy for bladder and AD control with minimal downsides.
To test and potentially prove its advantages—and with the help of 15-20 volunteer research participants, including Coret—Krassioukov is heading a Phase 2 clinical trial based out of the ICORD facilities at Vancouver General Hospital.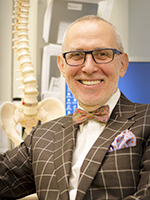 Coret began using Toviaz in late 2017. At the start of the trial his bladder could only hold 150 millilitres of urine. By the end of his participation, his bladder volume had increased to 500 millilitres. Coret's bladder now fills naturally and is drained by intermittent catheterization instead of continuously draining into a leg bag, which he no longer needs. And he does not suffer from recurring AD.
"I was told that this was impossible. It has been such a positive experience for me. It feels like I have had some normalcy return to my life."
After his accident, Coret went on to develop technology that is now used by competitive freestyle skiers and snowboarders around the world, including Olympic hopefuls, to safely train year-round. He was featured on TEDx Vancouver, and the story of his traumatic injury and numerous successes since then has been widely shared online.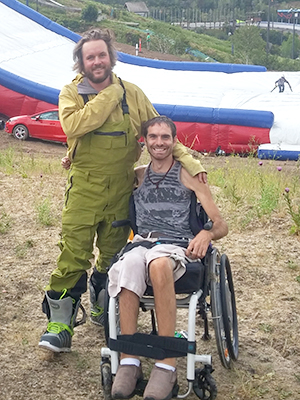 Today, the 33-year-old engineering graduate, entrepreneur and co-owner of Progression Airbags spends much of his time making sure no one else experiences a traumatic spinal injury while training for what they love. With support from medical science and research, there is no limit to what Coret can achieve.
The "Fesoterodine for amelioration of Autonomic Dysreflexia following Spinal Cord Injury" clinical trial is recruiting patients until the end of July 2018. For more information, contact Andrea Ramirez at 604.675.8856 or aramirez@icord.org.
THIS IS ONE PATIENT'S STORY OF PARTICIPATING IN A CLINICAL TRIAL. YOUR EXPERIENCE MAY DIFFER. LEARN MORE ABOUT CLINICAL TRIALS BEFORE PARTICIPATING.