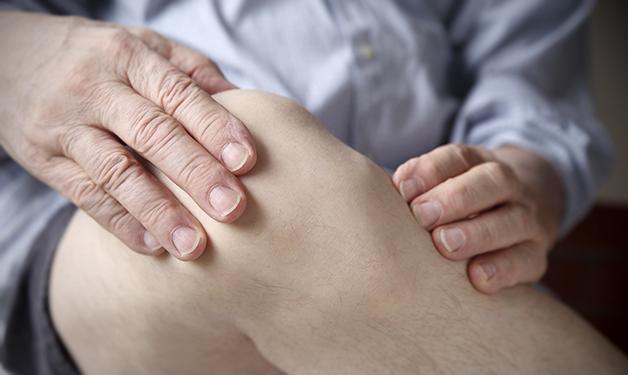 Suffering from joint pain? Dr. Diane Lacaille offers insights into what it can mean and what you can do about it.
Q: Changes in weather didn't used to bother me. Now that I'm older, my joints feel achy when it's cold or damp out. Is it all in my head?
A: A lot of my patients report that their arthritis is better in dry, warm weather, and worse in cold, damp weather, so rest assured you're not alone. Though the idea is not proven, we think that what causes people to feel more joint pain are changes in barometric pressure that occur when weather changes.
Q: My parents and grandparents had arthritis. Does this mean that I will get it too?
A: No, it doesn't. Certain types of arthritis tend to run in families, such as rheumatoid arthritis (RA), which affects one per cent of the general population. If someone in your family has RA, you may have about a three-fold increased risk of getting it, but, at three per cent, the overall risk is still low. Other types of arthritis have a genetic component, but it may not be as pronounced and other factors come into play. Osteoarthritis (OA), the most prevalent form of arthritis, also has a genetic component, but it is influenced more by environmental factors such as joint damage from prior injury or excess weight.
Q: What can I do to lessen my joint pain?
A: It really depends on the cause. If it's due to arthritis, it depends on the type you have. We now have very effective treatments to control joint pain and even stop the progression of some types of arthritis. If you experience joint pain from RA, getting medication early may eradicate inflammation and put RA into remission. For osteoarthritis, medication and exercises prescribed by a physiotherapist can lessen the pain and improve your ability to do things.
Q: I run during summer and ski during winter months. Will I be better off if I stop?
A: Overall, physical activity and regular exercise are good for your joints. Deep, repetitive knee-bending has been linked to joint wear and tear, and high-impact sports may accelerate degenerative arthritis, like OA. But studies have not clearly demonstrated that running causes OA. Skiing and hockey have been linked to OA but mostly due to joint injuries. So keep enjoying your favourite sport, but take measures to prevent injuries, warm up properly, and let yourself heal from injury before getting back to your activity.
Q: Is there anything I can do to avoid getting arthritis?
A: There's no guarantee you can avoid it but you can reduce your risk. Gum disease and smoking are both risk factors for RA, so take care of your teeth and don't smoke (or quit if you do). Maintain a healthy weight, which helps keep the pressure off your joints. Be physically active. Strengthening your thigh and core muscles helps OA in the knees and back. Eat a well-balanced diet. Learn about foods and supplements that have anti-inflammatory properties and avoid foods that are high in purine and fructose, which may actually trigger some forms of arthritis, like gout.
Q: Are some exercises recommended over others?
A: More than doing a specific exercise, what matters is to be physically active on a regular basis, and this is true for everyone, including people with arthritis. To achieve health benefits, Canada's national physical activities guidelines recommend that adults (18-64 years) and older adults (65 years and older) engage in moderate to vigorous aerobic activity for at least 150 minutes per week, in sessions of 10 minute or more. If you have arthritis and it hurts when you exercise or you are unsure which exercises you should do, consult a physiotherapist.  
Always remember to warm up properly for your activity and cool down afterward. Learn about injury-prevention in your chosen sport to reduce the risk of joint injury. If you are injured, do not go back to your sport until you are healed.