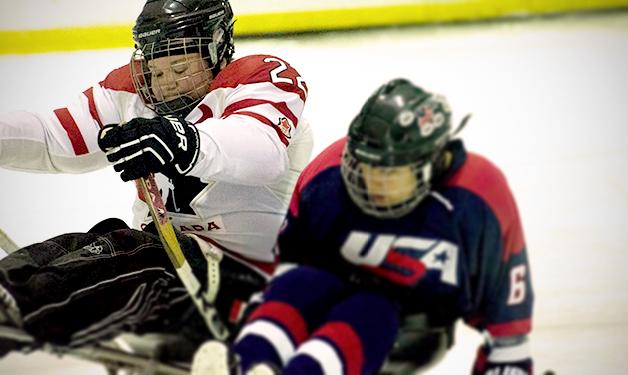 Meet Peggy – a powerful force in the lab and on the ice.
Q: What is your research area and why does it interest you?
A: I am interested in researching spinal cord injury (SCI) because I was born with Spina Bifida, a birth defect that affects the formation of the spinal cord during development. As a youth, I had many reparative spinal cord surgeries that ignited my interest in the workings of the central nervous system. This eventually led to further interest in trying to find a way to improve motor, sensory and autonomic function for people who have sustained damage to their spinal cord. 
Specifically, I'm interested in understanding the biological changes that take place after SCI. My research focuses on two areas. First, I want to understand how the host's cells contribute to repair after injury. Better understanding of this might allow researchers to find a way to improve the process. Secondly, I'm investigating the use of cell transplantation as a potential therapy for spinal cord injury. 
Q: What was the most memorable experience you have had in your research career thus far?
A: Other than completing my PhD comprehensive exams, I would say it was the opportunity to travel to Sochi, Russia, for the 2014 Winter Paralympic Games with a team of researchers at ICORD who were researching autonomic functions in Paralympic athletes with spinal cord injuries. It was pretty amazing to travel to Russia and help contribute to an aspect of clinical research.
Q: What do you like to do when you're not working?
A: I love playing sledge hockey, a Paralympic sport for people with lower limb disabilities. I have played for 19 years and have been on the Canadian Women's National Sledge Hockey Team for 6 years. I was able to represent Canada during the first ever International Paralympic Committee (IPC) Women's World Championships this past November. 
I also help to facilitate local sledge hockey development programs with the goal of helping the community to become exposed to sledge hockey and giving people of all abilities the opportunity to try it out. And I do Canadian Paralympic Committee presentations for health care professionals about the importance of sport in the rehabilitation process. 
Q: What's the best advice you've ever received?
A: A wise senior graduate student once told me that getting a PhD, and just generally working in academia, is a marathon and not a sprint. 
Q: If you won a free vacation to anywhere in the world, where would you go?
A: I think it would be pretty great to go into some remote areas around the world and distribute donated adapted equipment (wheelchairs, crutches, sports equipment) to youth with disabilities. I know that that is not a vacation, but it would be a pretty great experience.
Q: What would you be doing if you weren't a researcher?
A: I would likely be a full time athlete. I love playing and coaching sports and introducing people to new ones they have never tried before. I also enjoy working with youth with disabilities.