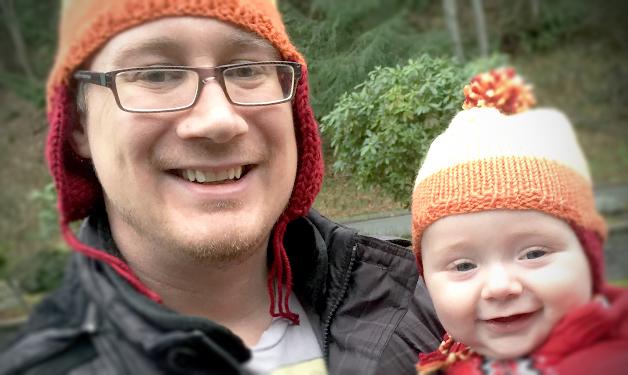 Cancer researcher, embryological pathway investigator, teacher, and first-time dad.
Q: What is your research area and why does it interest you?
A: I started my career studying marine biology but after family experiences with cancer I decided to focus my efforts on cancer research where there is a desperate need for better treatments. I now study the molecular pathways of bladder cancer and how they can be inhibited. Specifically, I am studying an embryological pathway called Sonic Hedgehog, which is recruited by the cancer cells to promote their growth and survival. The hope is to prevent the cancer's progression to advanced stages where treatment options are very limited, and thereby raise patient survival rates.  
Q: What has been your proudest achievement so far?
A: Academically, it was receiving the Canadian Institute of Health Research Frederick Banting and Charles Best Doctoral Award. Personally, it is undeniably the birth of my son Max last July. Watching him grow up during the last year has been an adventure. He's always ready to surprise me with something new, like when he picked up a book and opened it to "read" it.  
Q: What's the best advice you've ever received?
A: To never fear failure and to actively try things that I may not be good at.  I've found that failing provides a unique perspective that is essential to being successful.
Q: What do you like to do when you're not working?
A: I love to teach. Tutoring and volunteering for youth science programs takes up most of my free time. I like to introduce students to the wonders of science and show them how little we actually know. Hopefully I inspire them to get out there and discover something new. My house is full of natural specimens, models and books that hopefully will inspire my son as well. In addition, I try to get outdoors as much as I can. 
Q: What do you see yourself doing in 20 years?
A: Ideally, I'll still be involved with research and teaching.  A nice balance between the two would make for a fantastic career for me.
Q: If you won a free vacation to anywhere in the world, where would you go? 
A: I would travel to Africa. I have always wanted to experience the wildlife and I also think the social and political differences would provide a fascinating experience.
Q: What would you be doing if you weren't a researcher?
A: I would probably be operating a comic store. The combination of small business and nerdy entertainment would be a ton of fun.