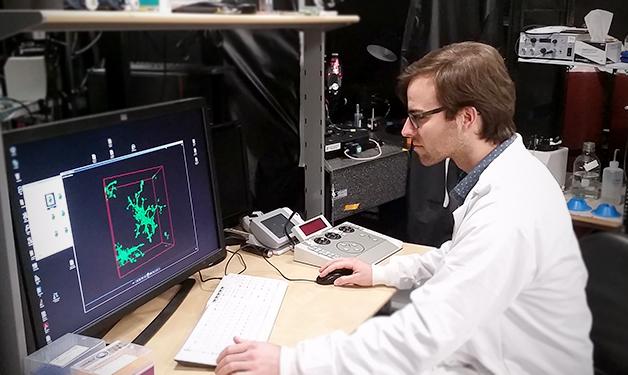 Congratulations Nick – Newbie from Calgary and recipient of the MSFHR/VCHRI Postdoctoral Fellow Award.
Q: What is your research area and why does it interest you?
A: My research focuses on brain swelling (cerebral edema), a very dangerous condition related to pathologies like stroke and traumatic brain injury. My PhD centered on stroke, so studying edema is immediately relevant to my training and makes for a smooth transition into my new fellowship role. I find this particular field of research interesting because unlike many neurological conditions, the causes of stroke are clear-cut. The challenge is making sense of everything that goes wrong after a stroke, such as edema, and coming up with new ways to mitigate brain damage.
Q: What has been your proudest achievement so far?
A: My latest manuscript is about to be published in a great neuroscience journal. This is a very proud moment not only for me, but also for the eleven other scientists whose efforts have culminated into a great study over the past three years. Unfortunately, until I get the official manuscript proofs from our editor, I don't think I'm allowed to say much more than that!
Q: You were recently awarded the 2015 Michael Smith Foundation for Health Research/Vancouver Coastal Health Research Institute Postdoctoral Fellow Award – congratulations! What made you apply?
A: I applied for the MSFHR/VCHRI award because my research plan aligns nicely with the mandates of both funding bodies. My work in the MacVicar lab is translational in nature, and I'm optimistic that the outcomes of my research might inform future treatments for brain edema in the clinic. 

Q: You're new to Vancouver. What's been the best part about living here so far?
A: Coming from Calgary, I'm not accustomed to seeing so much rain, but Vancouver is a beautiful city, even in the rain. Fortunately, a sunny day here unmasks the most breathtaking vistas – especially from our lab at UBC. When the rain clears, Vancouver is the best place in Canada!

Q: What is the one thing you made sure to bring with you from Calgary?
A: I'm an avid snowboarder, so I made sure to bring my snowboard with me to take advantage of the ski hills here. With Calgary as a launch point, I've been fortunate to ski all over the Rockies. This past week my new colleagues took me to Whistler for the first time. It was some of the best snowboarding I've ever experienced.
Q: What would you be doing if you weren't a researcher?
A: My background is predominantly in the health sciences, so working under the medical science umbrella seems most likely. I've always considered medicine as another career option, but that is a long road to take (especially for someone who already has close to ten years of post-secondary education under their belt). But one of the niceties of PhD training is you acquire skills that are transferable beyond scientific disciplines. So, while I love what I'm doing, it's always nice to know there are other career paths beyond academic research.