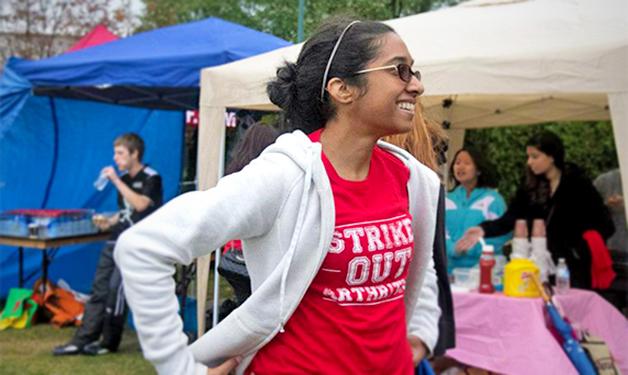 Meet Agnetha – she's gone from crossing guard to tendon researcher.
Q: What is your area of research and why does it interest you?
A: My research focuses on determining the effects of statins on tendon health. Statins are the most prescribed drugs used to lower cholesterol levels in the blood in the hopes of preventing heart disease, but there have been reports of patients experiencing tendon problems while taking the medication. I study Achilles tendons using ultrasound tissue characterization (UTC), which allows me to determine the health of tendons; both qualitatively and quantitatively.
This area interests me since it isn't a common area of research, such as cancer or immunology, but it still has great impact on the quality of life for those affected by tendon issues.  
Q: What achievement are you the most proud of (so far)?
A: I would have to say that so far, I am most proud that I am the first in my immediate family to graduate from University. And now I will also be the first in my immediate family to get a Masters degree. 
Q: What do you see yourself doing in 20 years?
A: Helping others. That has been my goal since I was young and has my first volunteer position at my elementary school as a crossing guard. 
Q: What do you like to do when you're not working?
A: Read! I love to read mystery novels, particularly those by Agatha Christie. Additionally, my other hobbies include: learning sign language, astronomy, dance, volunteering, and being involved with Model United Nations through UBC. 
Q: What would you be doing if you weren't a researcher?
A: If I wasn't in research, I think I would be a teacher since I thoroughly enjoy teaching and mentoring others. Through the Research Experience (REX) Program, coordinated by the Undergraduate Research Opportunities (URO) at UBC, I have had the opportunity to mentor undergraduate students. My mentees have come from a range of Science programs and years, allowing us to work on a variety of research topics. With a goal of working with the mentee so that they can present at MURC, I am able to guide research questions, develop research proposals and eventually, see them succeed at MURC. Seeing the growth of my mentees as they gain research experience throughout the year is very fulfilling. 
Q: If you won a free vacation to anywhere in the world, where would you go?
A: I would go to Switzerland. Once there, I would visit UN headquarters and CERN along with the regular tourist attractions.  
Q: What's one item that you can't live without when you're working?
A: I listen to music when I work so I couldn't live without my iPod.