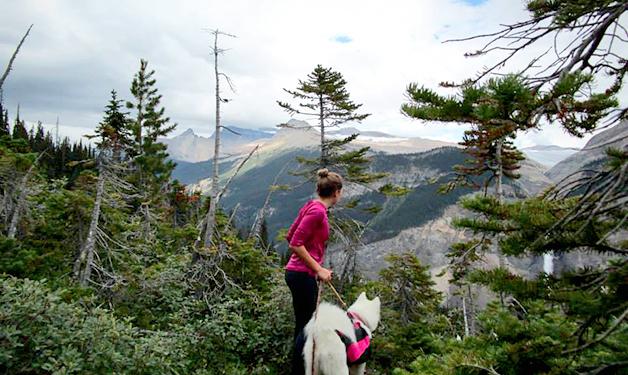 Meet Ana-Maria, an inspired and inspiring STEM advocate.
Q: What is it in research that interests you?
A: I was interested in science  from an early age. When I was in high school, I was in an enriched science and leadership program and I did the SHAD Summer Camp focussed on STEM (science, technology, engineering and math) and it influenced me tremendously. I'm really interested in neurology in particular because I was born with spina bifida and I've had numerous operations on my back. Having spina bifida has profoundly impacted my life and passion. I would often visit the outpatient clinic in the Blusson building and pass ICORD (International Collaboration on Repair Discoveries). I became very curious about the research centre and after volunteering there for a few semesters, I was able to get a Work Learn position. I'm very lucky because my work at ICORD is personally relevant and it's linked to what I study in school as a third year neuroscience and genetics student at the University of British Columbia (UBC). It's a tough program but I work hard at it and I love it. 
Q: Any advice to girls and women who are thinking about pursuing educations and professions in STEM?
A: I know this field has traditionally been less open to women but personally, I have never felt that way. I was lucky because my high school science and leadership program had a deliberate 1:1 male-to-female ratio, and I was always strongly encouraged and supported by my teachers.
My advice to young women is to find a role model—someone who inspires you in your field. If someone is not immediately obvious to you, do your research and look for around. One of my role models is Dr. Lara Boyd, a neuroscientist at UBC. I went to one of her talks a few months ago and she completely inspired me!
Q: What helps bring calm and balance into your life among all of the demands of studying and working?
A: I think everyone, especially young people, struggles with this, especially in an expensive city where you really have to work. I'm still figuring it out but I do make sure to spend time doing other things than school and work.
But what really helps me feel balanced is meditation. I meditate regularly and I work hard at being present, no matter what I am doing. I did a 10-day Vipassana retreat a few years ago and it really helped me understand this concept. If you're not fully present, you waste a lot of time. Meditation helps me be more efficient and focussed.
Q: What do you like to do when you're not working?
A: I love art, especially drawing portraits. I like to go hiking—when it's not raining! And I love playing with my dog and two cats.
Q: Where do you see yourself in 20 years?
A: Career-wise, I've always dreamt of working in the medical field, particularly as a pediatric neurologist—so I hope to be doing that in 20 years. I'd also love to be doing work that affords me the opportunity to write, as this is a passion of mine.
Q: If you won a free vacation anywhere in the world, where would you go?
A: That's hard to answer—my gap-year travels inspired me to want to see so many places! If I had to choose, a free trip to South America would be amazing! I'd love to visit and hike the Patagonia region in Chile and see the Bolivian salt flats (at night!).