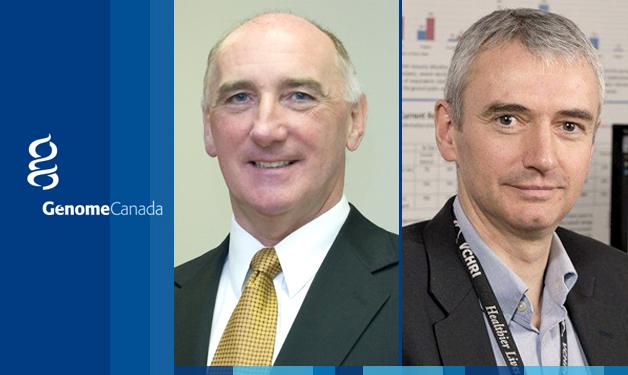 Funding supports VCH researchers whose new treatments could revolutionize patient care.
Genome Canada has awarded $9.7 million to a project co-led by researchers at Vancouver Coastal Health (VCH) that could change the face of transplant care. The funding will support a groundbreaking study—co-led by Dr. Paul Keown and Dr. Stirling Bryan from University of British Columbia, Dr. Ruth Sapir-Pichhadze from McGill University and Dr. Timothy Caulfield from University of Alberta—that aims to increase kidney transplant success rates by 50 per cent and save around $1-billion in health care costs over the next 15 years.
"With the funds from this award, we are working to identify new clinical interventions to increase survival rates and quality of life for transplant patients and their families," says Keown, professor and director of Immunology and founding head of the BC Transplant Program, now one of the largest and most successful in North America. "The knowledge and expertise gained throughout this project has the potential to be transferred to other types of transplantation, which could be revolutionary."
The BC-led project—Precision Medicine CanPREVENT AMR: Applying precision medicine technologies in Canada to prevent antibody-mediated rejection and premature kidney transplant loss—involves research teams throughout Canada (Alberta, Quebec, Ontario and Nova Scotia) and the world (United Kingdom, European Union and United States). 
Researchers involved in the project are using genetic technologies to better match kidney donors with patients. Through advanced procedures, they are investigating how to better monitor the immune response that causes a transplant to be rejected and to intervene before this occurs. Teams are also designing personalized medicine for patients using novel "systems pharmacology" approaches that will prevent rejection and avoid associated health risks. 
"Transplantation remains the optimal treatment for patients with kidney failure, but rejection continues to affect as many as 30 per cent of recipients," says Bryan, professor and director of the Centre for Clinical Epidemiology and Evaluation (C2E2). "The goal of our project is to cut the rejection rate in half using genomic technologies. This has the potential to save the transplanted kidneys of approximately 500 Canadians each year and dramatically reduce the need for dialysis and re-transplantation."
The Large-Scale Applied Research Project Competition—a partnership between Genome Canada, the Canadian Institutes of Health Research and project co-funding partners—awarded $162-million over four years to 15 genomics and precision health projects that improve health outcomes for patients and enhance the cost-effectiveness of delivering health care in Canada.
    
On top of improving treatments for kidney and potentially other transplant patients, the Precision Medicine CanPREVENT AMR study will examine the legal and ethical ramifications of introducing these strategies to health care practitioners. The project will also identify societal and economic barriers to adopting these innovations and develop effect strategies to address them.
---
Award background
Genome Canada, in collaboration with the Canadian Institutes of Health Research and project co-funding partners, has invested approximately $162-million over four years in 15 new genomics and precision health projects. These projects—spanning multiple disease areas—demonstrate how genomics-based research can contribute to a more evidence-based approach to health and thereby improve health outcomes for patients, as well as enhance the cost-effectiveness of Canada's health care system.