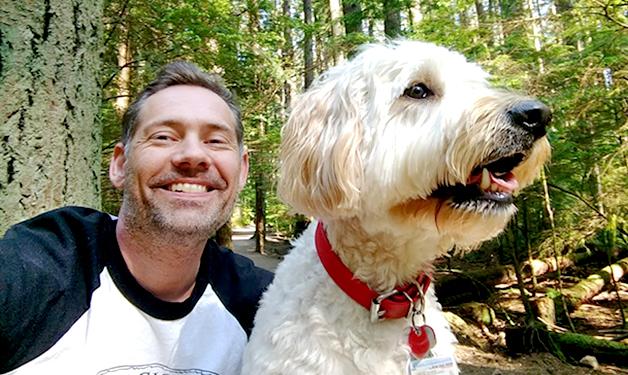 Meet Matthew—writer, dog-lover and dedicated to rehabilitation research.
Q: What is your role at the GF Strong Rehabilitation Research Lab?
A: I am a research coordinator for the Spinal Cord Injury Research Evidence (SCIRE) Project—we systematically review spinal cord injury (SCI) research and put it on the web so that clinicians will have the best and most recent scientific evidence readily available. We have a new website called SCIRE Community that provides the same science-based information about SCI research, written in everyday language so it is even more accessible. 
I coordinate the reviews, write content, manage our team, update our website and run our social media. I support our talented work learn students as they help us review an incredible amount of research. I also produce and help create the instructional videos on our YouTube channel. 
Q: Why are you interested in rehabilitation research?
A: SCI affects many different body systems and can require many life adjustments. On any given day I could be looking at research in mobility, balance, skin health, cardiovascular function, and the list goes on. People in our lab are studying important questions about how to improve health for people in rehabilitation, such as: What is the optimal dosage of exercise for recovery from a stroke? Are there technological innovations or assistive technologies that can help people with disabilities function better in the community? What activities should people be doing or not doing after a concussion? What knowledge do people need to self-manage and prevent secondary injuries like pressure ulcers? The breadth of the research keeps it interesting! 
Q: What is the best part of your job?
A: I really enjoy building working relationships with people inside and outside of the research lab. What we do has to be scientifically defensible and statistically valid, but also clinically relevant, and it takes a team of people to accomplish that. I'm fortunate to be able to work with the dedicated and knowledgeable professionals in rehabilitation right here at GF Strong. I can say they go the extra mile in delivering care, looking for solutions, and working to make our research as applicable as it can be.  
Q: How do you like to spend your non-working hours?
A: I play as a goalie for a recreational soccer team (in goal, advanced age is less of a factor) and I really enjoy that. I also like to write—I work with non-profit organizations writing grants to fund their programs and work with businesses to write content for their websites. I'm also turning the antics of my 5 year-old Golden Doodle, Kiri, into a series of children's books. 
Q: If you could go on a vacation anywhere in the world, where would you go? 
A: So many places! Later this year we are planning to head to Iceland where I've wanted to go for a really long time. After that, I don't know! Maybe an African safari?