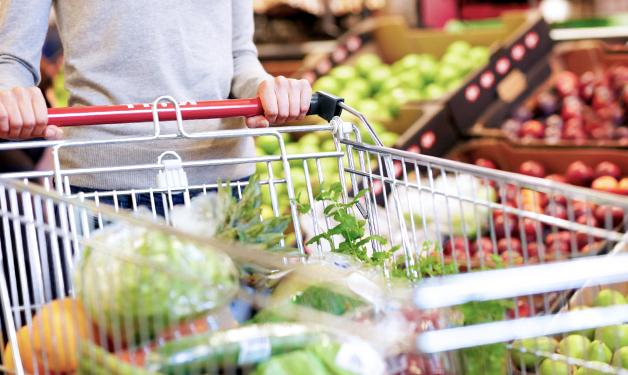 Chinese-Canadians with diabetes learn healthy eating skills as part of a new research pilot study.
Sometimes the best way to learn is by doing. For Chinese-Canadians with diabetes who participated in a Vancouver Coastal Health Research Institute (VCHRI) cooking class study, the proof was in the pudding—especially if it was made with traditional ingredients.
"We know that people of Chinese descent are at higher risk of developing diabetes, and we wanted to communicate with them in a culturally appropriate way."
The study, led by VCHRI researcher Natalie Choy, investigated whether Chinese-Canadians with diabetes recruited from the Richmond Hospital Diabetes Education Centre would see improvements in their blood sugar levels after completing a series of four cooking classes over the course of three months. Poorly managed blood sugar levels can lead to diabetes complications, including cardiovascular, kidney and nerve-related diseases. 
Choy and colleagues recruited 81 adult participants, 48 of whom took the cooking classes in either Mandarin or Cantonese—the remaining participants formed the control group and did not take the cooking classes. 
Boosting knowledge and skills to improve diabetes management 
The cooking classes taught participants how to prepare meals with fresh, whole and healthy foods. Family members of participants were also invited to attend classes, Choy says, to include them in the learning process and help provide support to participants.
"Many family members share the cooking responsibilities at home, so we wanted them to have the opportunity to gain this practical knowledge, as well."
The research team selected many traditional Chinese ingredients—such as bok choy, gai lan, oyster mushrooms, green beans and fish—to make it easier for participants to cook what was covered in class at home. 
"We started classes off with a discussion about the recipes we would be using," says Choy. "Then, all participants prepared the meal together—from washing, cutting and cooking the food."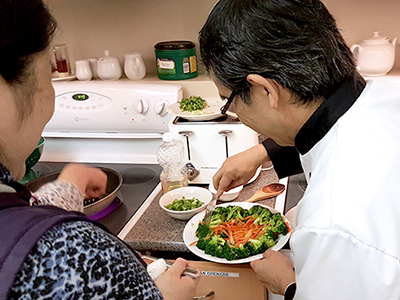 During each class, a dietitian, chef and nurse were on hand to discuss a variety of health- and wellness-related topics with participants, including food safety, grocery shopping, meal planning, portion control, reading nutritional labels on packaged foods, physical activity and testing blood sugar levels. 
 
Participants checked their blood sugar levels before eating together as a group and going for a 20- to 30- minute walk outside. Two hours after eating, participants tested their blood sugar levels again, with support from the dietitian and nurse.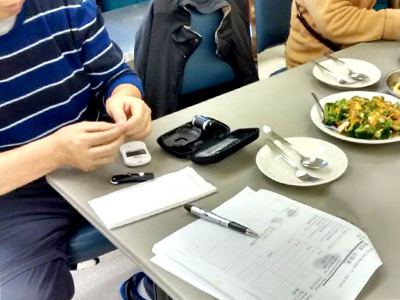 "Instead of just recording their blood sugar levels in a notebook and then setting it aside, we wanted to help participants think critically about why their blood sugar might be too high or low, and what they can do to manage it."
The study results showed that the cooking class group had lower hemoglobin A1C levels—average blood sugar levels that reflect how well diabetes is controlled—by a mean of 0.28%, as compared to the control group. This is a notable decrease, especially since diabetes medications typically lower HbA1c levels by 0.4-1.3%. Most participants also reported learning a new cooking skill and all said they would recommend the classes to a friend.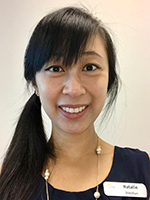 "We were happily surprised by the results of this study," says Choy. "Despite the short period of time we had, we were able to see some positive results. We also received a lot of positive feedback from participants, many of whom said they would be interested in participating in classes similar to the ones in this study again in the future." 
Visit Diabetes Canada to access Chinese language resources on healthy living for people with diabetes.