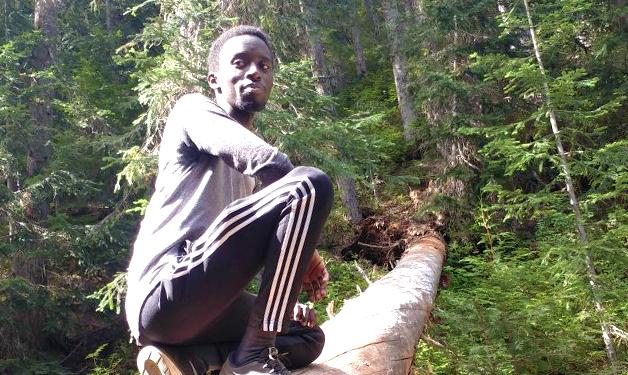 Meet Juma—he finds working with study participants to be a breath of fresh air.
Q: What is your role in health research?
A: As part of my thesis project, I am working in the Air Pollution Exposure Lab at Vancouver General Hospital (VGH) to coordinate the clinical portion of the Dose-response In Controlled Exposure (DICE) study. Specifically, I collect biological samples, and conduct lung function and airway inflammation tests using spirometry and fractional exhaled nitric oxide respectively. I use these measures to investigate the systemic effects of exposure to different doses of diesel exhaust to find how this relates to changes in lung function.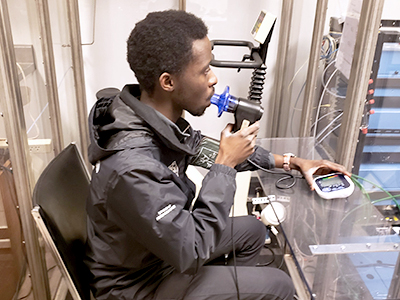 Q: What is your research area of interest? And what led you to this?
A: I am interested in understanding how diesel exhaust affects the human body and lungs. My research aims to develop reliable tools to quantify both biological and clinical health effects of exposure to different doses of diesel exhaust. Air pollution is a major cause of mortality worldwide; so doing translational research that could improve interventions against its health effects is an attractive endeavour that matches my passion for improving health care. 
Q: What is the best part of your research job?
A: I enjoy interacting with study participants. To me, these interactions highlight the vital contributions of the community in advancing research, and strengthen my commitment towards improving public health through research. It also gives me a great opportunity to interact with people with diverse backgrounds outside of academic and research circles.
Q: What has been a major highlight of your research career so far?
A: I was recently awarded the David Bates Scholarship Award for air quality research, which also happens to be my first award in graduate school. This achievement was a delightful reminder that I am part of an amazing community of researchers and health practitioners dedicated to improving air quality in British Columbia.   
I also won the 2019 Vancouver Coastal Health Research Institute's heat of the 3-Minute Thesis competition, which allowed me to go on to the finals at UBC where I came in 2nd place!
Q: What was your first job?
A: My first job was as a Jumpstart Orientation leader at UBC. Supporting new international students as an orientation leader was a perfect way to make new friends and build my interpersonal skills. More importantly, I got to give back to the international student community by helping others transition to university life in Canada.  
Q: What are things you do for fun outside of work?
A: I have an unrelenting passion for science fiction and horror works, so I spend a lot of my free time indulging in these genres through movies, TV shows and video games. I also love salsa dancing, socializing and strumming away on a finely-tuned acoustic guitar. 
Q: What is something we might be surprised to learn about you?
A: I can sing a song in Mandarin, fluently.