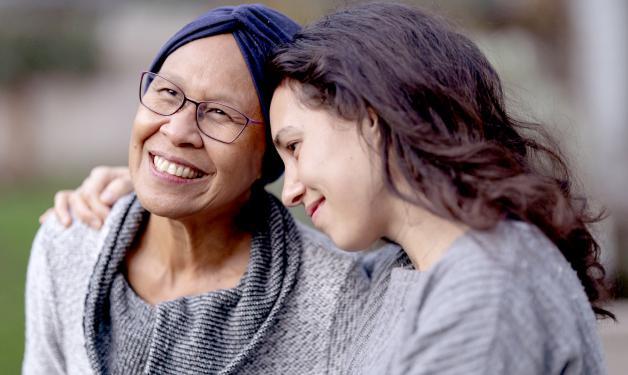 Researchers are developing systems that could put Canada on the map for adoptive cell therapy for leukemia and other conditions.
A study co-led by Dr. Kevin Hay from Vancouver Coastal Health Research Institute (VCHRI) and Dr. Natasha Kekre at The Ottawa Hospital is investigating the use of specialized chimeric antigen receptor T (CAR-T) cells to treat CD19 positive (CD19+) acute lymphoblastic leukemia (ALL) and non-Hodgkin lymphoma (NHL). 
This first-of-its-kind clinical trial in Canada involves manufacturing and administering a CLIC-1901 cell therapy, which could add to current treatments available to the thousands of Canadians diagnosed with ALL and NHL each year.
"This is a completely Canadian-designed and led product: from the genetic engineering of the cells at BC Cancer using vector manufactured at The Ottawa Hospital all the way to the clinical administration at Vancouver General Hospital, with monitoring of trial patients supported by the VCHRI Hematology Research Program," says Hay. 
"This trial could help make Canada a world leader in these types of investigations." 
ALL occurs when cancer grows inside of stem cells found in the body's bone marrow. Stem cells have the ability to develop into components of blood: white and red blood cells, along with platelets. ALL-affected blood cells can multiply rapidly and enter the bloodstream where they can travel to and infect organs. 
     
While ALL mostly affects children, Hay's study is investigating a treatment that would be a first for adults with a class of ALL that involves B-cells—a type of white blood cell that forms part of the body's infection-fighting immune response. Around 75 per cent of adult ALL cases fall into this category. 
Chemotherapy is a first-line treatment for ALL. However, it impacts all cells in the body, and only achieves long-term cancer remission for between 30-40 per cent of adult patients. 
NHL cancer also affects the immune system's white blood cells, called lymphocytes, and often originates in the lymph nodes, spleen, bone marrow, adrenals, digestive tract or thymus. Antibody therapies that target the CD19 protein found on the surface of B-cells are often used to treat CD19+ NHL, of which the novel CLIC-1901 treatment would be one.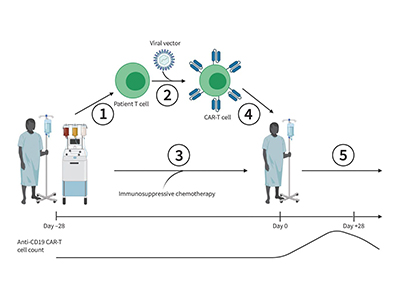 Hay's present study builds on the Phase 1 trial, which involved treating 20 patients with ALL and NHL. 
"We believe that CLIC-1901 could lead to better longer-term outcomes for ALL or NHL patients who previously had no other treatment options," says Hay. "We also hope that our approach could improve the manufacturing of CAR-T cells moving forward, which could have implications for the treatment of other cancers."
A Canadian-made approach to revolutionize CAR-T cell development
Hay and researchers are using cutting-edge technology to genetically engineer CLIC-1901. T-cells are taken from patients' blood and given a benign form of lentivirus—a virus designed so that it cannot replicate—that carries the chimeric antigen receptor gene into the T-cell. This changes the genetic code of T-cells, transforming them into CAR-T cells that can target the CD19 antigen. 
"We remove all of the components of the virus that could be harmful, along with its ability to replicate, but keep its ability to get inside T-cells and integrate into their genome," explains Hay.
The CLIC-1901 army of CAR-T cells is designed to ramp up when more cancer cells are present, and scale down once the cancer has been eliminated. A few CAR-T cells then remain in the body to help prevent the cancer from coming back.
"I like to compare it to 'whack-a-mole', in that the remaining CAR-T cells can find and whack or destroy any cancerous cells that try to come back."
This technology is well-established, says Hay. Gene transfer experiments were first conducted in the 1970s, and some CAR-T therapies were approved by Health Canada in 2018. 
"We have already seen that cell therapies targeting CD19 CAR-T cells have dramatically changed the field of cell therapies both in Canada and around the world," says Hay.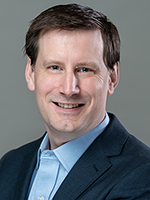 The know-how the team develops through this project could be relayed to other Canadian research centres to produce cellular products, similarly to what was done to establish the bone marrow transplantation technology now commonplace in major cancer treatment centres, notes Hay. 
He and his colleagues have received funding from the National Research Council of Canada as well as BioCanRx, a Network of Centres of Excellence, for building a Canadian CAR-T manufacturing network, and transferring their know-how to other cities such as Winnipeg and Toronto.
"This line of research is only the tip of the iceberg," he adds. "As we speak, there are hundreds of CAR-T cell clinical trials going on in blood and solid cancers that will likely change the name of the game for how we treat metastatic cancer and treatment-resistant disease."   
Hay's research is a collaboration between Vancouver Coastal Health, BC Cancer and The Ottawa Hospital with funding from the BC Cancer Foundation, BioCanRx, the Ontario Institute for Cancer Research and The Ottawa Hospital Foundation.