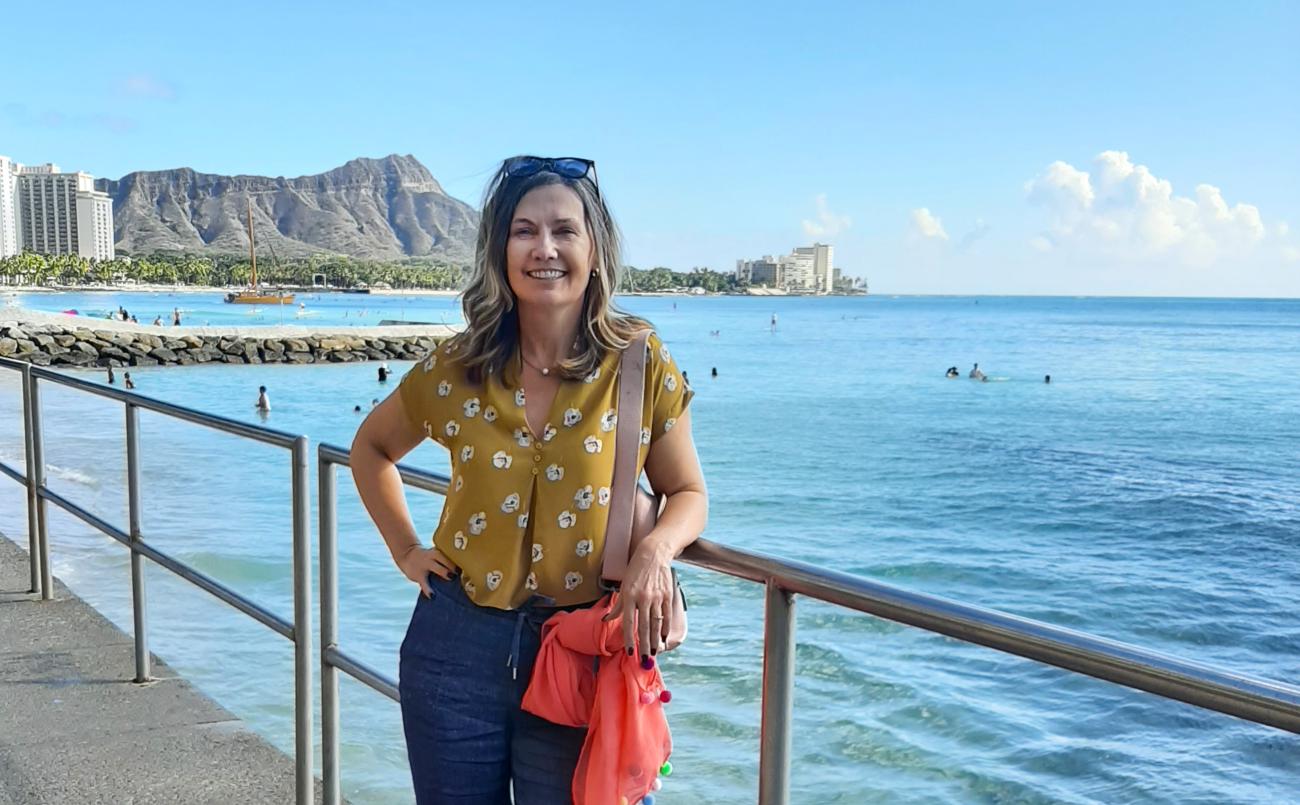 Meet Barbara — A diabetes advocate with a passion for world travel.
Q: What is your role in health research?
A: I am a study coordinator in the Division of Endocrinology at the Gordon and Leslie Diamond Health Care Centre, where I work with participants who selflessly commit their time and energy to research. 
Q: What is your research area of interest, and what led you to that interest?
A: I developed an interest in diabetes research 30 years ago when I started working as an outpatient dietitian at Surrey Memorial Hospital. Unfortunately, people with diabetes are often misunderstood, and the disease and its complications are viewed as their own fault. Through research, we can raise greater awareness about diabetes and reduce the stigma.
Q: What does your average day at work look like?
A: There is always a lot of variety, which makes my work very interesting! On any given day, I could be conducting a participant visit, working on an ethics application, interfacing with a sponsor or doing administrative tasks such as ordering lab supplies and managing finances. 
Q: What are some of the biggest accomplishments of your career so far?
A: I was one of the first Certified Diabetes Educators in the country and maintained that designation for years. My certification allowed me to provide my clients with specialized care and support to manage their diabetes. 
I was also fortunate to volunteer with a great team at Diabetes Canada, where we helped create many engaging, evidence-based educational materials used across national diabetes programs.
Q: What would you do if you were not working in health care? 
A: I would be a pastry chef or a restaurant critic. My aunt was an amazing baker and cook, so carrying on her legacy and sharing her legendary Austrian recipes would be an honour. 
Q: What do you do for fun in your spare time? 
A: While I hate to admit it, my guilty pleasure is watching Hallmark movies. Most of them are filmed throughout the Lower Mainland, so it is fun to spot local sites! 
Q: If you could travel anywhere in the world right now, where would you go and why?
A: Travel is my passion — it allows me to learn about history, geography, culture, diversity, food and all the things that make our planet unique. I have visited 15 countries so far, and would one day love to take an around-the-world cruise. 
Q: What is one thing we might be surprised to learn about you? 
A: I dabble in various forms of dance, such as tap, ballet, hip-hop and belly dance. I think it is a fun way to get exercise and enjoy music. 
Q: What piece of advice would you give your younger self?
A: I am proud of where my career has taken me thus far and would not do things too differently, other than encouraging my younger self to get involved in research sooner!