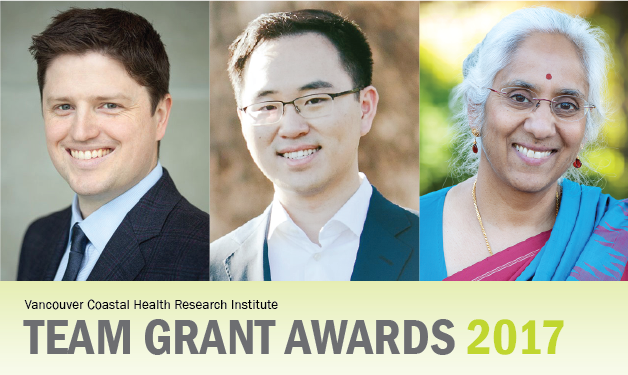 Congratulations to the 2017 VCHRI Team Grant recipients!
Supportive and collaborative research brings benefits to the entire health care system.  Through the Team Grant, Vancouver Coastal Health Research Institute (VCHRI) is proud to support research mentorships that enable knowledge exchange and relationships to be built between VCH staff and clinicians and experienced researchers. These grants support applied research projects that help VCH health care providers improve their practice through collaboration with researchers who mentor them through the entire process. 
The 2017 Team Grant recipients are:
Robert Carruthers, Clinical Assistant Professor, Department of Neurology, Faculty of Medicine, University of British Columbia; Clinician, Multiple Sclerosis Clinic at Djavad Mowafaghian Centre for Brain Health 
Steven Lee, Clinical Instructor, Anesthesiology, Pharmacology and Therapeutics, Faculty of Medicine, University of British Columbia; Anesthesiologist, Vancouver General Hospital
Saraswathi Vedam, Associate Professor, Family Practice, School of Midwifery, University of British Columbia; Registered Midwife, Vancouver Coastal Health
The Team Grants are made possible with the generous support of the VGH & UBC Hospital Foundation in partnership with VCHRI. 
---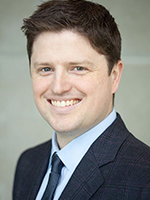 For patients with multiple sclerosis (MS), timely and appropriate treatment has far reaching implications. The proposed project aims to empower patients to make evidence based treatment decisions. 
"In the past, clinicians might hand patients pamphlets and ask them to pick a treatment," says Carruthers. "With the approach of shared decision making, we developed an interactive patient decision aid, the Relapsing Multiple Sclerosis Patient Decision Aid (RMS-PtDA), to help patients make an informed decision for their MS treatment. Our decision tool rigorously assesses and incorporates the patient's values and expectations in order to provide a personalized match to treatment." 
 "RMS-PtDA is for patients who are considering using disease modifying therapy," explains Dr. Robert Carruthers. "People with MS will find that data from clinical trials and safety reporting has been built into a user-friendly tool that will empower patients to find a drug that meets their needs. With patients more invested in treatment decisions, we predict enhancements in decisional conflict and treatment satisfaction."
Obstructive Sleep Apnea (OSA) is a common and under-diagnosed condition with a high risk for cardiorespiratory complications. After surgery, the symptoms of OSA are exacerbated and patients often require monitored beds. The scarcity of these beds often results in recovery room backlog and may translate into operating room delays or surgery cancellation. In addition, the lack of a specific care protocol on the ward to minimize potential complications puts the OSA patients at risk. 
This project will assess the impact of an OSA care algorithm on reducing complications in the perioperative period by providing multi-disciplinary interventions. If proven effective, this care bundle will be proposed as the new standard of care for OSA patients undergoing surgery at VCH.
"OSA is a significant clinical problem at our institute and will continue to be so," says Dr. Steven Lee. "This joint effort by Anesthesia, Internal and Respiratory Medicine will be one positive step forward in meeting this challenge."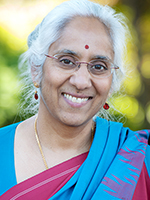 In BC, pregnant women have the option to give birth in the hospital under the care of an obstetrician, family physician, or midwife, or to plan a home birth with a midwife attendant. These choices are "preference-sensitive," but not all services or providers are available in all communities. Evidence suggests women have significant knowledge gaps about their options, and thus may not choose low-intervention, high quality models of maternity care that match both their values and their health profile. To ensure that women make informed choices, it is critical to provide them with accurate information.
"We will partner with women and families in the Vancouver Coastal Health region to develop and test an online, interactive 'Where and How You Birth (WHY Birth)' decision aid," explains Dr. Saraswathi Vedam. "Women report an improved sense of autonomy and respect when they can lead decisions around options for maternity care." 
Use of the decision aid may help women to choose the model of care and place of birth that best aligns with their values and health profile. The project aims to evaluate the impact of the tool on women's decision quality (congruence between their values and preferences; knowledge; decision conflict; risk perceptions) and provider choice. Use of the WHY Birth decision aid could facilitate uptake of community-based care, reduce interventions, and help family and maternity providers work together to make evidence-informed personalized decisions about birth care.