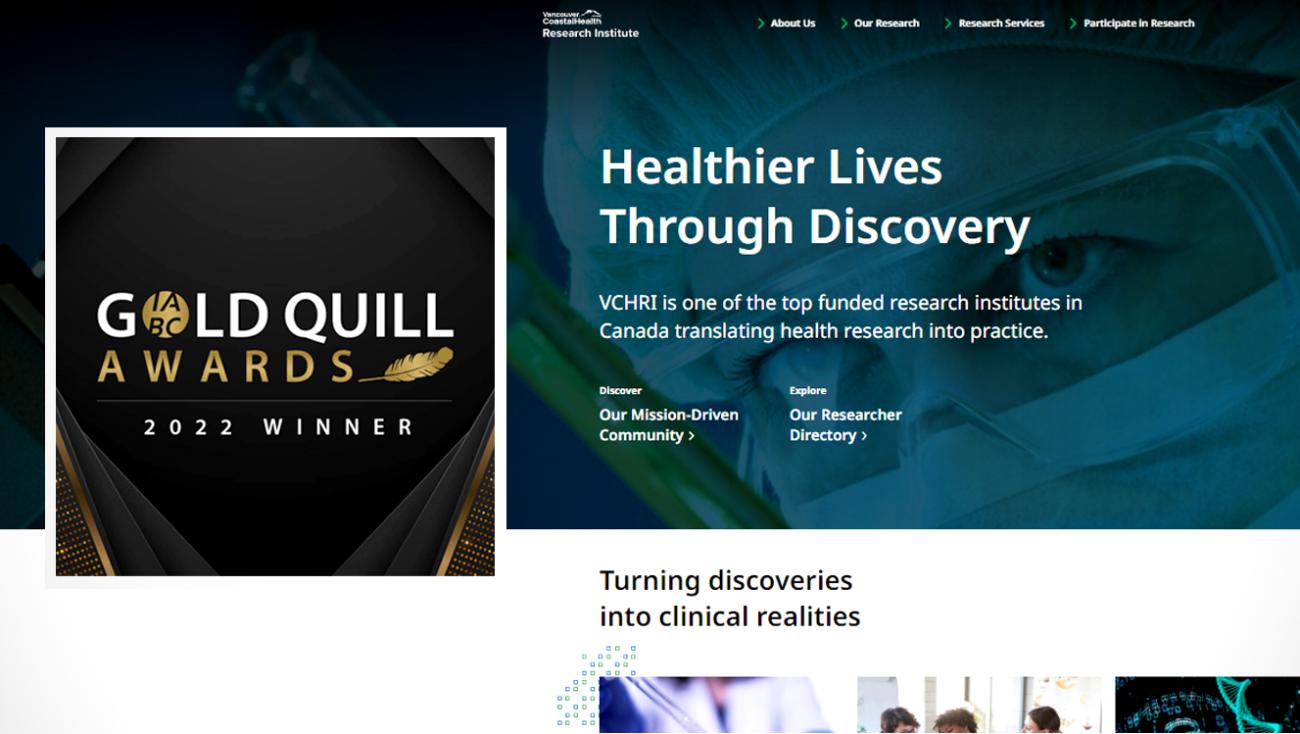 With input and feedback from the research community, the VCHRI communications team succeeds in launching an award-winning online platform.
Vancouver Coastal Health Research Institute (VCHRI) has won the International Association of Business Communicators 2022 Gold Quill Award of Excellence in the category of Communication for the Web for the recently relaunched www.vchri.ca website. The premier awards recognize communications professionals from around the world whose work demonstrates excellence in strategic communication.
"I extend my gratitude to the research community at Vancouver Coastal Health and the University of British Columbia who shared their insights, knowledge and experience throughout the consultation process for this website redevelopment project," says Vivian Sum, project lead and VCHRI director, brand and communications. "It has been an honour to work with several talented colleagues and stakeholders throughout this process."
Beginning in 2021, the VCHRI communications team launched the website redevelopment process with a series of surveys and focus groups with members of the VCHRI research community. The information collected informed many of the decisions surrounding the build out of the site, which contains over 4,200 webpages of organic content.
As a result, site navigation has been streamlined to be more accessible and user-friendly. The enhanced user experience makes it easier for researchers, staff and members of the broader community to engage with key information, resources and news, including narratives that bring to life the patient experience and research impacts.
Showcasing how research changes lives
The strong, eye-catching brand and messaging on the website make clear that developments taking place under the VCHRI roof are driving research innovation and moving discoveries into clinical care and practice.
"I would like to thank and congratulate Vivian Sum and her team for their dedication, creativity and ingenuity that was applied to this project. The new website enables us to better engage with and showcase the brilliant work of our investigators, staff and trainees across 15 world-renowned research centres and programs," says Dr. David Granville, VCHRI executive director. "Aligned with our strategic goals, a strong brand reputation is an important part of our infrastructure to support, grow and bring awareness to all of the discoveries, innovation and clinical research being done at VCHRI."