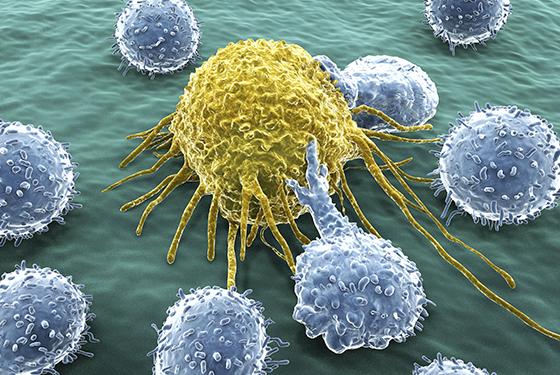 Circulating tumour cell (CTC) detection and enumeration may serve as an early marker of survival in metastatic cancer.
Circulating tumour cells (CTCs) reflect the aggressiveness of tumours and they are the prognostic markers in metastatic breast, prostate and colorectal cancers. An accurate prognosis provides prediction of the probable course and outcome of cancer. Many research studies have been made to develop assays that accurately detect CTC. Through monitoring CTC levels, doctors and physicians can obtain more information about a cancer patient's prognosis.
Clinical Assay Laboratory — first in Canada to perform CTC technique
The Clinical Assay Laboratory (CAL) at the Vancouver Prostate Centre is the first in Canada to perform the CTC technique.  The technology involves the detection and genetic assay of CTC in the blood stream. "We use the CTC analysis in conjunction with other clinical methods to gain a more complete assessment of prognosis," says Jenny Bazov, general and technical supervisor at CAL. Over the past six years, researchers have been characterizing CTC for several features, which provide improved insight into biological processes including drug resistance and treatment-induced cell death.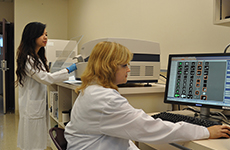 The change in CTC level in cancer patients before and after treatments is an important indicator of their prognosis. CAL is able to provide this valuable information to the doctors and physicians for more informed patient care decisions throughout the continuum of care.
The research capacity at the Vancouver Prostate Centre has attracted researchers from around the world with its distinctive combination of cutting edge technologies and clinical expertise. As part of the Clinical Trials Unit, CAL has made remarkable progress in 2012 — researchers analyzed 1,400 samples of CTC assays, which is double the amount from previous years1.
"We have the ability to chaperone a target from conception to clinical trials," says Dr. Kim Chi, clinical director of the Clinical Trials Unit of BC Cancer Agency and associate professor at the Department of Medicine in UBC. "The research platforms attract considerable revenue from industry and academic partners to develop novel products and services."
As Canada's first College of American Pathologists' accredited laboratory, the Clinical Assay Laboratory is currently undergoing rigorous screening from the Clinical Laboratory Improvement Amendments for further international certification. Click here to learn more about the clinical trials at CAL.
1
PCTRiADD Annual Report 2012-2013, A Research Enterprise.