Nanostim leadless pacemaker study assesses long-term efficacy of device and refines implantation technique.
A novel pacemaker is demonstrating that good things really do come in small packages. This past September, Vancouver Coastal Health Research Institute scientist and cardiologist Dr. Matthew Bennett implanted the Nanostim leadless pacemaker, Canada's first and smallest leadless pacemaker, into an elderly female patient's heart at Vancouver General Hospital (VGH). Dr. Bennett, a heart rhythm specialist and clinical assistant professor in the Division of Cardiology at the University of British Columbia's Department of Medicine, will be observing the device's progress in numerous patients as part of a one-year evaluation study.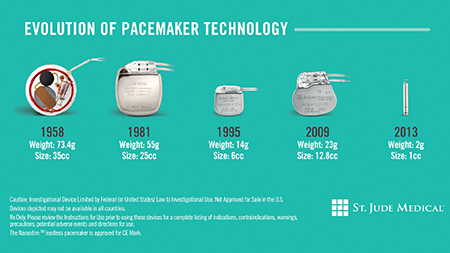 "Our first patient was excited to receive the Nanostim and it's working excellently – better than what we'd expect from a standard pacemaker on average," says Dr. Bennett who works out of both VGH and St. Paul's Hospital. "We're evaluating how easy it is for the pacemaker to sense the heartbeat and how little energy it will require to pace."
Traditional pacemakers typically have a lead, or leads, that may go from the left or right shoulder and are inserted either in the heart's ventricles or atria. The leads are connected to a pacemaker that is implanted under the patient's skin in a surgical pocket in the chest. From there, the pacemaker paces the heart, sending an electrical pulse down the leads when necessary to get the heart to beat normally.
Quite different from a traditional pacemaker, the Nanostim leadless pacemaker does not have leads, nor does it need a surgical pocket. Instead, the device is securely nestles within the right ventricle of the heart and prompts the heart to beat at a regular pace by sending small pulses of electricity when needed. A small battery exists within the device.
"One of the biggest advantages to the Nanostim is that patients don't have the usual activity restrictions in the left or right shoulder that come with a traditional pacemaker," says Dr. Bennett. 
"We insert the leadless pacemaker through the top of the leg using the femoral vein and although our patients should not do any heavy lifting for the first week, they are safe to have rigorous movement in their shoulder after that." 
Another benefit to the Nanostim leadless pacemaker is that it eliminates the possibility of backwards blood regurgitation, which occasionally happens with traditional pacemakers. The device is also subtly different in its battery life span and does not leave any visible scar.
Revolutionizing pacemaker design and implantation technique
Twelve patients are currently enrolled in Dr. Bennett's study, which is a follow-up to his team's initial short-term study looking at the ease of implanting the Nanostim leadless pacemaker and acute results. He and his colleagues are looking to enrol 660 patients in this study, which also aims to refine the implantation process.
"This is a new technology and procedure, unlike what we've done before with traditional pacemakers," says Dr. Bennett, who shares implantation responsibilities with colleague Dr. John LeMaitre.
 "The Nanostim revolutionizes pacemaker implantation and provides more options to patients," adds Dr. Bennett. "This is the first device of its kind and it'll be interesting as technology advances and batteries get smaller to see if the device becomes even smaller. It's advancing the whole field."