InterEPID aims to help better triage patients and eliminate avoidable complications.
A new evidence-based guideline published recently in the Canadian Medical Association Journal (CMAJ) gives Canadian physicians the tools they need to better treat patients with iliofemoral deep vein thrombosis (DVT) (blood clots in the deep veins of the thigh and groin). Vancouver Coastal Health researcher and interventional radiologist at Vancouver General Hospital (VGH), Dr. David Liu, is lead author of the new guideline, called the INTERdisciplinary Expert Panel on Iliofemoral DVT (InterEPID) guideline.
"InterEPID is intended to offer a soup-to-nuts approach to the diagnosis, triaging and management of all patients with suspected DVT," says Dr. Liu.
"For DVT patients, if they are triaged properly to therapy, they will be less likely do develop long-term complications. In select patients, appropriate diagnosis may lead to a decrease in related short- and long-term health consequences." 
Every year, more than 35,000 Canadians a year are affected by iliofemoral DVT, which may lead to issues such as pulmonary embolism (blood clots to the lungs), loss of life and limb, or long-term painful swelling of the legs. Complications associated with DVT may occur years after the presentation of DVT if it is not managed at onset. DVT is a life-threatening condition in the short term, with long- term implications to the patient and (significant downstream cost to) society if not managed properly.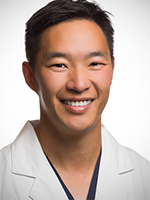 "The participation of key stakeholders, and the contributions of physicians and surgeons of VGH, including Dr. Paul Yenson (co-primary investigator), Dr. Erica Peterson, Dr. Joel Gagnon, and Dr. Chad Kim Sing, was essential to the guideline development process," says Dr. Liu.
Currently, anticoagulant therapy remains the primary treatment for managing iliofemoral DVT, mainly to prevent recurrent formation of blood clots in the vein. However, some patients with the condition may benefit from alternative clot-management strategies, such as inferior vena cava filters, compression therapy, and clot removal or reduction strategies. Little consensus exists with respect to these interventions. 
"The InterEPID guideline is really intended as guidance to the primary care physician and the first care responder in the rapid assessment of venous disease," Dr. Liu says. 
"The key question to ask in this setting is whether the patient's presentation may warrant referral or consideration for therapies beyond standard oral anticoagulation and may potentially benefit from adjuvant techniques such as surgery, minimally invasive clot removal, or the use of inferior vena cava filters (IVCF)."
The incorporation of interventional strategies outlined in the InterEPID guideline provides physicians with an opportunity to see the entire spectrum of the disease and look at situations where the intervention not only mitigates the acute risks and dangers, but also addresses the long-term complications of painful swollen legs that may result from chronic damage to the venous anatomy.
"As the guideline suggests, how to recognize the spectrum of DVT presentation, and differentiating the patient population, is a critical first step in identifying individuals who may benefit from additional therapies," says Dr. Liu. 
"We see a significant number of patients that are referred to us at VGH for intervention and as a result our response teams are cognizant of the issues and indications for therapy," he shares. "Health care providers in the community setting may not have the opportunity to pour through the literature and it is the hope of the authors that InterEPID will assist the primary care provider in rapidly triaging those that may benefit from hospital based intervention."
---
Highlights from the InterEPID guideline published in the CMAJ:
All hospitals have diagnostic tools to diagnose, and determine the severity of iliofemoral DVT.
Anticoagulants are recommended for all patients with iliofemoral DVT, but the type and length of treatment will vary according to presentation.
Inferior Vena Cava filters should only be used in selected situations, should be tracked, and removed as soon as possible.
Immediate intervention with clot removal is recommended in patients with phlegmasia cerulea dolens to reduce the associated risks of amputation and death.
Clot removal intervention can also be considered for patients who are at low risk of bleeding to minimize possible long-term complications from iliofemoral DVT that may decrease quality of life due to post thrombotic syndrome (PTS).
The use of compression stockings for symptomatic PTS is recommended, but no evidence currently exists for the use of compression stockings for the prevention of PTS
Patient follow-up by the primary care physician is important.