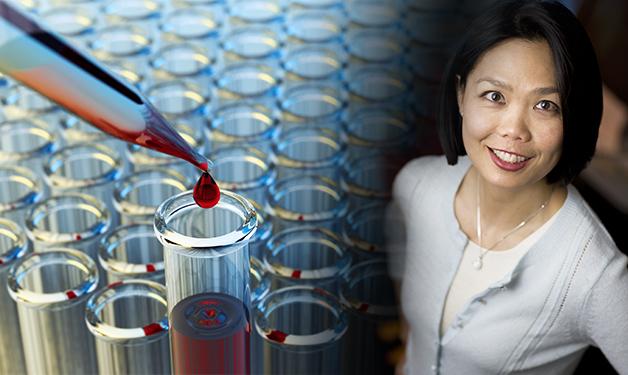 Brighter future for BC patients with blood conditions.
Top researchers in blood disease have a new home within Vancouver Coastal Health Research Institute (VCHRI). "We know we have excellent, high-quality research but it is wonderful to get this validation and recognition," says Hematology Research Program (HRP) director Dr. Agnes Lee.  HRP has received official program designation at VCHRI.
The team of 23 researchers works to improve outcomes for people with blood disease. "The work we are doing makes such a difference to the people of BC," confirms Dr. Lee. She says the new designation and the financial support it provides is a welcome boost.
Each year about 2,000 people in BC receive a diagnosis of malignant blood disease. Another 80,000 British Columbians are on blood thinners. But Dr. Lee says the good news is that research—like that done at HRP—is rapidly improving patient outcomes. 
"It's a very exciting time; we are seeing breakthroughs almost on a monthly basis that we didn't see for decades before. And the treatments we're discovering are allowing patients with blood disease to have a much improved quality of life."
HRP researchers study malignant blood diseases such as leukemia and multiple myeloma—both cancers that begin in bone marrow— and lymphoma, a cancer of the lymphatic system. They also do research in bone marrow transplantation. Another important area of HRP research and care is thrombosis – a potentially lethal blood clotting condition that is common in cancer patients and other patients with acute medical or surgical problems.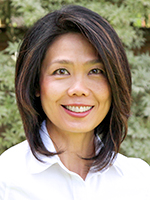 According to Dr. Lee, some of the recent advances in blood disease treatment include:
Extending survival from a few months, to a few years, to even decades for many myeloma patients.
Better therapy in elderly patients with acute leukemia or marrow failure.
Discovery of new, easier to take, medications for thrombosis patients. Many have switched from injections to oral medicine.
Fine-tuning surgery preparation for people on blood thinners.
But the biggest advance is better targeting of malignancy: "In the past, we used more of a nuclear bomb approach to diseases like leukemia. So even healthy cells in the body received a toxic dose and patients felt terrible during treatment. Now, we have more of a targeted drone strike." Dr. Lee says new targeted and immunotherapy drugs can shut down the progress of many cancer cells while leaving normal cells intact. 
We are learning to outsmart blood cancer cells. This has had huge implications for quality of life. Patients can receive treatment without being hospitalized. They can be in the comfort of their own home, around their loved ones.
The dogwood and the donors
HRP's patients and research participants come from all over BC. "We serve the entire province—we even have patients from the Yukon—so we have a mandate for a provincial footprint in all our studies," says Dr. Lee. HRP wanted that provincial representation reflected in its logo and tasked Vancouver graphic designer Brent Martin with the job.
"It was a tall order," says Martin. "How to represent hematology and the Province of BC in a simple logo? The typical mountains and rivers just didn't seem to work. Late one night I came across an obscure book of BC flowers and there was the dogwood, our Provincial flower. And I read that the indigenous people of BC used the bark of the dogwood in a tea as a blood purifier. It was a perfect match. You couldn't ask for anything better. It ties it all together."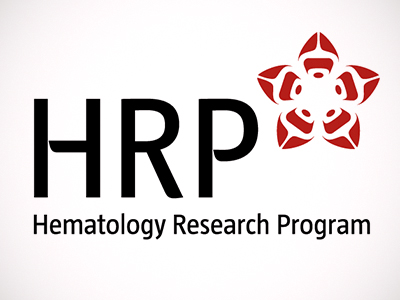 Dr. Lee says perfect matches are also the name of the game for hematology patients. Many need bone marrow transplants and blood transfusion, and public support for these procedures is crucial. 
"We simply can't treat and support our patients without the generosity of blood donors. We are always struggling to have enough blood supply on hand. When it comes to bone marrow if a patient doesn't have a good family fit we are often forced to look nationally and internationally. Please consider donating blood regularly and signing up for marrow registries."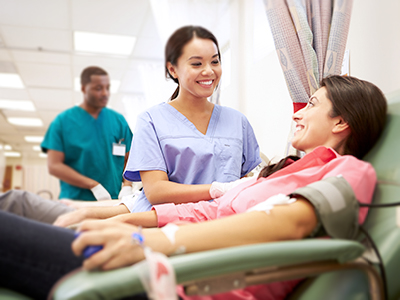 Dr. Lee says she's excited to see what her team of researchers can accomplish next.  "At any given time HRP has at least 30 studies on the go. This year we'll be doing some phase one, first-in-human type studies. It's cutting edge research. And our new affiliation with VCHRI will help us do even better work."