Book-based group language therapy may boost outcomes while cutting wait times and costs.
A made-in-Vancouver group-based language therapy approach that can cut costs and wait times may also rival one-to-one therapy for effectiveness. The unique group approach—called Language Fun Story Time (LFST)—uses the power of books and peer modelling for children who are slower to develop language.
Working with local librarians, Vancouver Coastal Health speech-language pathologists have been running the group program for the past 8 years. LFST gets rave reviews from participating families. Therapists have also observed that improvements in language skills from children in the group sessions seem to match those made in the one-to-one sessions typically offered.
Natasha Ogryzlo, a researcher with Vancouver Coastal Health Research Institute, wants to get some hard facts to support those anecdotes. Ogryzlo is a speech-language pathologist (SLP) who works with kids in both types of sessions at the Three Bridges Community Health Centre.  Ogryzlo and fellow Vancouver Coastal Health SLPs have embarked on a comparison study of the two approaches. Ogryzlo says if the study findings back up the hypothesis— that LFST is as effective, if not more effective than one-to-one sessions—it would justify more widespread adoption.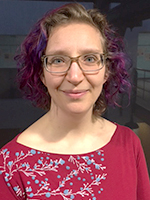 The study hypothesis goes against what people might assume: that one-to-one focussed therapy must be better for a child than possibly getting distracted or getting less attention in a group of active pre-schoolers. 
"Actually, what we often find is that one-to-one sessions can be overwhelming for a young child. Having five or six other kids around to take the focus off them lets them participate more. It gives an opportunity for peer models and we know that kids learn from peers."  
The SLPs will measure and compare language gains for kids in individual therapy and kids in the LFST program. The study findings could mean significant cost and wait time reductions if therapy can be proven as effective, since it can be given to eight kids at a time, instead of one.
In a typical LFST session, children and their families get together and listen to a librarian reading a book. Each child then gets a chance to act out parts of the story with felt characters, while an SLP addresses any individual language goals, such as working on vocabulary and length of sentence. Everyone learns from each other. The children then have a snack and play together while the SLP prompts social interactions and real-life language use. They also chat with parents and give advice. Each family borrows a copy of the book to re-read at home, and at the next session, everyone shares how the practice at home went.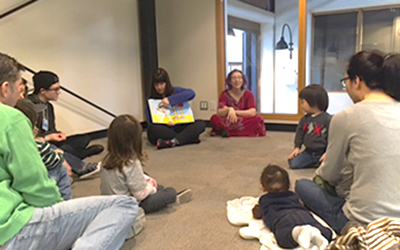 Ogryzlo says the LFST sessions differ from regular preschool, where things often move too quickly for a child with a speech or language delay. "Preschool teachers aren't trained in how to help these kids. So you get the little girl who has ten-word sentences answering most of the questions while a less verbal child is not pushed to improve." Ogryzlo's choice of a girl in this example isn't accidental, as 90% of her clients are boys. Boys tend to have more difficulties with language and communication than girls. 
The power of books
Ogryzlo says by acting out the story before reading at home, the language skills are more easily absorbed. The child can focus on the language skills instead of trying to figure out what the story is about. Experiencing the story through multiple senses and using repetition is crucial. "Our kids will have read the book 10-12 times when they come for their next session. So they gain confidence and absorb all the great language lessons that books can offer," says Ogryzlo.
A secondary benefit is building a love of books that will carry through the school years. Current favourites are Pete the Cat, Clip Clop, and The Bus for Us. Feeling good about books and handling books daily is associated with high literacy levels when kids start reading. "Books are fundamental to literacy and language," Ogryzlo says. "If we can get kids familiar with books and associating them with fun they will be much more prepared for literacy at age five."
The comparison study will be completed by the end of the year.