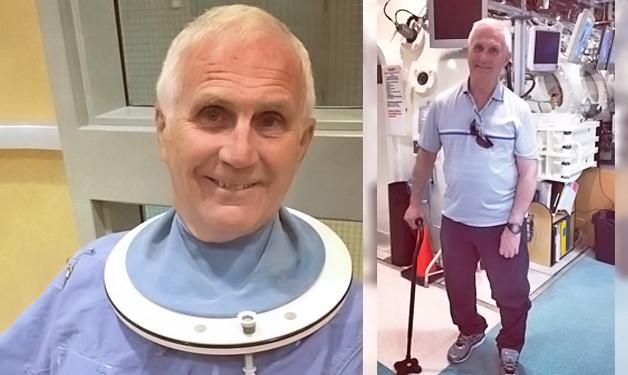 "I say yes to participating in research because I had everything to gain and nothing to lose."

– Clar Patten, Kelowna
Seventy-two-year-old Kelowna resident Clar Patten found out he was experiencing a medical emergency when his sister, a nurse whom he was visiting in St. John's, Newfoundland, looked at him and told him that he had either recently experienced or was currently having a stroke. 
"I'm not sure how she knew just by looking at me, but she did," says retiree Patten. "I had no idea myself that anything was going on. I didn't feel dizzy. I hadn't fallen. There was absolutely no warning on my part." 
His sister called an ambulance and Patten ended up staying for a week in hospital where it was confirmed that he had had a stroke. This was in August 2013—since, Patten's left side has been drastically affected. He lives with a lot of pain in his left leg and requires a cane to walk, and he's unable to use his left arm and hand.
Patten heard about a study using hyperbaric oxygen therapy for stroke recovery through a friend who had participated in similar therapy for cancer pain-related management.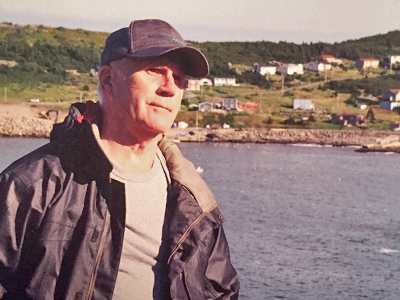 The study at Vancouver General Hospital (VGH) is the first ever randomized clinical trial with a sham placebo investigating hyperbaric oxygen therapy for individuals living with the effects of a stroke that occurred six months to three years previously.  While some previous findings have shown improved neurological function and quality of life for stroke patients after hyperbaric oxygen therapy, a more rigorous study with sound methodology is required in order to demonstrate whether the therapy truly works, according to Vancouver Coastal Health Research Institute clinician scientist Dr. David Harrison. 
Novel study aims to verify efficacy of hyperbaric oxygen therapy for stroke
Hyperbaric oxygen therapy is thought by some to be an effective treatment for stroke because it may deliver sufficient quantities of oxygen to the areas of the brain that have been subject to ischemic insult but could still be viable. It is theorized that neurons affected by a stroke may be alive but without sufficient blood supply therefore not receiving enough oxygen and nutrients to form connections or function as they ordinarily would. Delivering sufficient quantities of oxygen to the areas of the brain where blood supply is insufficient may allow the tissues to repair themselves and be active again. Hyperbaric oxygen therapy has been demonstrated as effective for other conditions, such as radiation-induced injury and diabetic foot ulcers. However, similar effects in stroke patients have not been conclusively proven.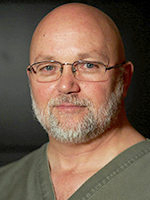 Dr. Harrison explains that further investigation is necessary because people are currently choosing to undergo hyperbaric oxygen therapy to treat a stroke via private, unregulated chambers and paying a steep price to do so. 
"The cost could be anywhere from $5,000 to $20,000, depending on treatment," Dr. Harrison says. "If this treatment is not effective, we should demonstrate that so people stop spending important financial resources on a futile therapy." 
However, Dr. Harrison adds that further study is also needed because if hyperbaric oxygen therapy does work, it could be life changing for stroke patients who suffer the effects of a potentially catastrophic and debilitating condition, for which there is no other effective therapy.
"And we're not just talking about elderly people—strokes happen to young people as well," Dr. Harrison says. 
"This could have an impact and be a game-changer in post-stroke care if we can definitely show that this treatment actually works effectively, improving neurological function."
Study participants undergo 40 hyperbaric oxygen treatments, which involves entering and staying in the hyperbaric oxygen chamber for two hours. Participants are treated once a day, five days a week, for eight weeks. The study aims to recruit 140 participants.
Dr. Harrison and Patten agree that the study's daily treatment schedule for approximately two months requires a solid time commitment. But for Patten, his participation was made possible through the generosity of a long-time friend who offered up his own Vancouver apartment for the weeks of treatment. And despite the inconvenience of being away from his home in the Interior, Patten would still recommend participating in such health research to anyone if they can find a way to make it work.
THIS IS ONE PATIENT'S STORY OF PARTICIPATING IN A CLINICAL TRIAL. YOUR EXPERIENCE MAY DIFFER. LEARN MORE ABOUT CLINICAL TRIALS BEFORE PARTICIPATING.