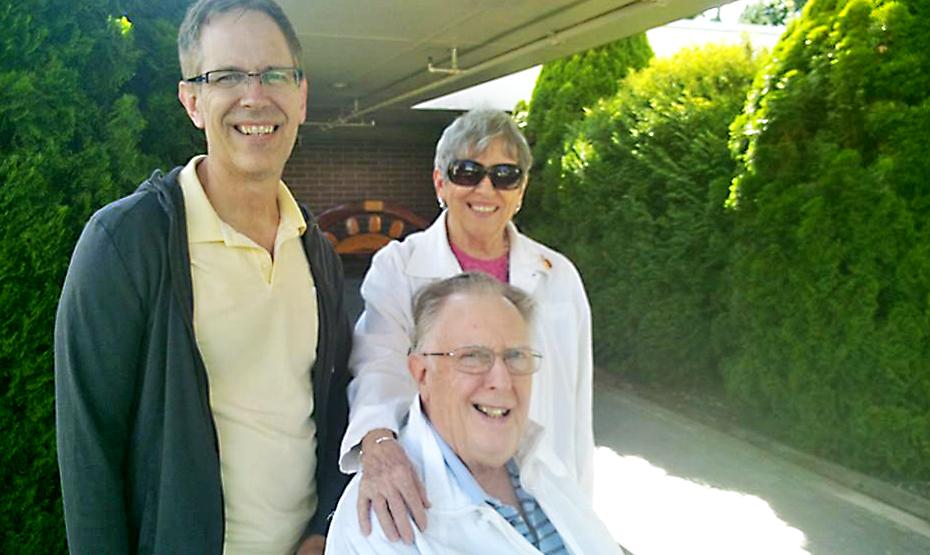 "We say yes to research because participation adds variety to our lives and teaches us different ways to cope with the aftermath of a stroke."

– Ray and Nancy Banks, Abbotsford
Ray and Nancy Banks had just finished breakfast when Ray, 82, started to feel weak. Nancy, 81, and Ray now live in Abbotsford, BC, but they first met when they were kids growing up in Michigan—where their four children were born. After 62 years of marriage, Nancy could tell something was wrong and knew that her husband needed help.
"He was feeling very weak," says Nancy. "He wouldn't sit down in his easy chair because he said he was afraid that he wouldn't get out of it. So, I said, 'either I'm calling an ambulance or we're going to the hospital.' So he let me take him to the hospital."
Ray was admitted to the emergency department on May 12, 2015. Doctors ran a series of tests, but could not perform an MRI—a typical diagnostic test for stroke—because one of Ray's eyes still contained a piece of shrapnel from his days working on metal typewriter parts in Kentucky. Instead, doctors opted for other diagnostic tests, including CT scans. After the second scan, they located a bleed on Ray's brain stem.
"I thought I might die," recalls Ray. "I was unable to do very much at all for a little bit. But, I was planning my funeral."
Thankfully, the treatments Ray received worked and, four days after arriving in emergency, Ray was admitted to hospital where he recovered for the next three weeks before going home.
Then came the hard part.
Working together to support couples affected by stroke 
Ray's body was dealt a significant blow by the stroke. His left arm and leg had lost a great deal of strength and he needed to learn to walk again. His recovery process then and now involves physical therapy, homecare assistance and, perhaps most importantly, the support of his wife, Nancy.  
Recovering from a stroke and leading a healthy lifestyle can be challenging, but both are necessary steps to achieve quality of life and prevent another stroke, says Christiane Hoppmann, a Vancouver Coastal Health Research Institute researcher. This makes it especially important to have both partners in a couple invested in the process.
Hoppmann is leading the Partners Using Linked Strategies Effectively (PULSE) Study, which is recruiting participants. Couples volunteer for 14 days and are given an iPad mini—which they can keep—to fill out questionnaires and take pictures of their meals. Participants also track their physical activity levels and provide one blood sample. After the study, participants can take part in a free technology workshop that teaches them how to use the iPad for useful everyday purposes.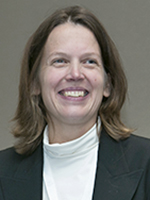 The information gathered from participants in the PULSE study will give researchers an inside look at how partners manage their lives together, what barriers they face in terms of choosing healthy meals and getting enough physical activity and what they are doing well to achieve their healthy lifestyle goals. 
Having a supportive partner to walk with and who participates in preparing healthy meals can go a long way when it comes to recovering from and preventing a future stroke. 
"We know that it is not easy to change behaviour," notes Hoppmann, who is also an associate professor in the department of psychology at the University of British Columbia and the Canada Research Chair in Health and Adult Development. "But a stroke is a loud wake-up call that does prompt couples to think deeply about how to prevent something like that from happening again."
"Many spouses have told us that they want to know what they can do to promote the recovery of their loved ones."
PULSE could also equip health care providers with knowledge about how best to support healthy lifestyle behaviours—such as physical activity—among couples affected by stroke. 
Being part of the program and learning to use an iPad mini was a time commitment, Nancy says, but it was also easy to integrate into their lives. "It was kind of fun," she says. "We would take the iPad with us every day, and use it to take pictures of our food."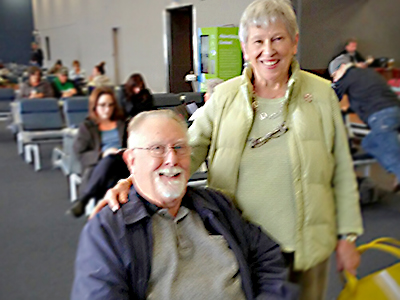 By taking part in the research study, the active couple—who mostly ate healthy home-cooked meals—learned that they were consuming too much sugar.
"Unlike pharmaceuticals, physical activity and enhancing nutrition have no side effects and are proven interventions that couples can undertake to reduce future health risk."
"I would usually drink two glasses of juice three times a day," says Ray, who discovered that juice can be quite high in sugar. "Now, I drink juice once a day and drink more water."
"We cut a lot of sugar out of our diet because of the PULSE study," Nancy agrees. "It was really informative. We would participate in something like this again."  
 
THIS IS ONE PATIENT'S STORY OF PARTICIPATING IN A CLINICAL TRIAL. YOUR EXPERIENCE MAY DIFFER. LEARN MORE ABOUT CLINICAL TRIALS BEFORE PARTICIPATING.