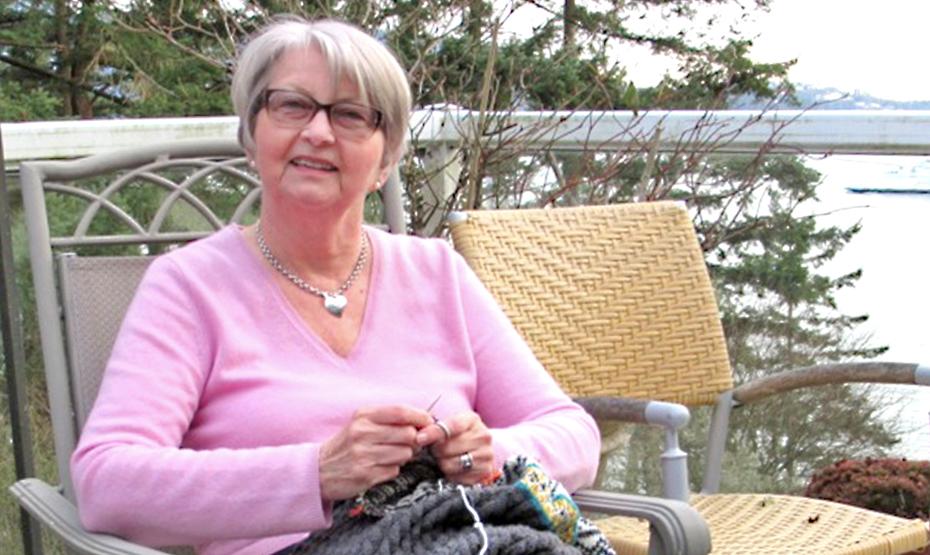 "I say yes to participating in research because it feels like I'm paying back."

– Elisabeth Pocklington, Bowen Island
For Bowen Islander Elisabeth Pocklington, good eyesight is at the heart of all her activities. An avid knitter and greeting card maker, the 69-year-old former teacher was recently diagnosed with non-infection uveitis—an inflammation of the inner eye. Left untreated, the condition can become painful and result in blurred vision. In some severe cases, it can even cause blindness. Eager to do everything she could to protect her vision, Pocklington, the mother of two adult children, signed up to be the first Vancouver participant in the trial of a new drug therapy for her sub-type of uveitis.
"All my hobbies are eye dependent. I really need good eyesight for my knitting, my crafts and all my reading."
Usually painless and undetectable to average person, uveitis can be a silent disease. Pocklington didn't pick up on any symptoms herself, but a regular check-up at the optometrist found irregular vision in one of her eyes. After further testing she received a diagnosis of posterior uveitis and became a patient of Vancouver Coastal Health Research Institute scientist Dr. Patrick Ma. Ma began a standard treatment of Pocklington's uveitis with the anti-inflammatory steroid prednisone, but he also offered her the opportunity to take part in the clinical trial of an alternate drug treatment.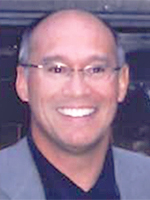 Ma, who sees about 100 patients a year with non-infectious uveitis, says patients need a better alternative. "Currently prednisone is still considered the gold standard, but all participants experience side effects from steroids–varying from weakness and muscle pain to fever and nausea." The research team is trying to shift to other medications that are more effective and have fewer side effects. This study is also trying to provide an easier route of administration, with oral tablets instead of the typical injectable drug.
Pocklington says she'd welcome an improvement. "I felt very weak on the prednisone and I wasn't able to do much." As part of the trial, Pocklington's prednisone dose is being gradually decreased and replaced by the new treatment.
"Volunteering for the study was a no-brainer for me. I have nothing to lose and everything to gain."
Participation payback
Pocklington says participating in the trial has been simple and straightforward. After an initial base exam, she now goes for testing once a month. Each visit takes about three hours, and since her eyes get dilated, Pocklington is dependent on her husband to drive her home afterwards. But she feels fortunate to have the opportunity to be involved in this research. She encourages anyone else who might be eligible to take part.
"I feel like I'm paying back. It's the least I can do," says Pocklington. "I've been given amazing care and the coordinators of the study are fantastic. They are so personable, caring and meticulous. I feel I am getting the best care possible!"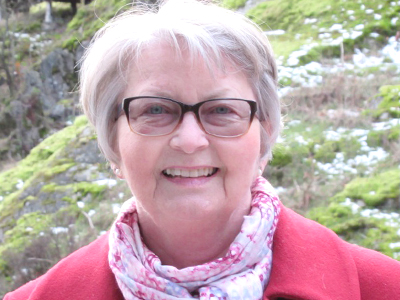 Pocklington and other participants take part in the study for one year, depending on how effective the trial treatment is in controlling their uveitis.
Ma is still recruiting for the uveitis study and says patients like Pocklington reap immense benefits from being part of a clinical trial.
"Participants in this study gain first access to a potentially beneficial therapy and they receive increased surveillance, with more active and regular assessments," says Ma. "Also, all study medication is covered by the study sponsor and there is financial support for travel if required. Even participants who agree to be in the study, but do not end up meeting the entry criteria, undergo extensive disease assessments during the screening process, which will help them in the long run."
THIS IS ONE PATIENT'S STORY OF PARTICIPATING IN A CLINICAL TRIAL. YOUR EXPERIENCE MAY DIFFER. LEARN MORE ABOUT CLINICAL TRIALS BEFORE PARTICIPATING.