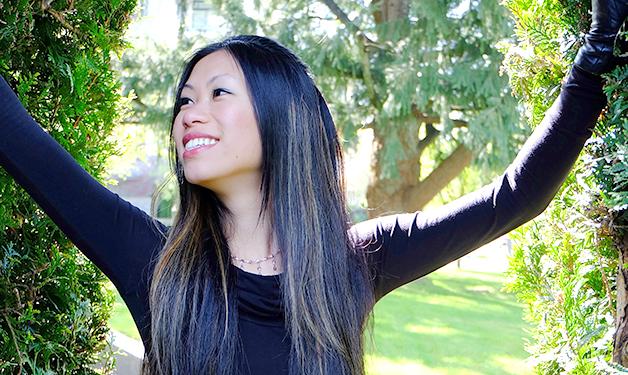 VCHRI team finished 6th in the health/medical category. Meet our fastest female runner Colleen - a research coordinator who goes the extra mile.
On April 19, 2015, the Vancouver Coastal Health Research Institute (VCHRI) team placed sixth in the Vancouver Sun Run, out of 66 teams in the Health Vancouver Sun Run Health/Medical/Dental division. Team organizer Eric Pesarchuk says that the team led to new friendships and pushed everyone to excel.
"Four of us got together for a training run on the seawall," Eric says. "None of us had met before but we all work within a three-minute walk of each other at different VCHRI buildings. We had a great time and all commented that the group setting made us run faster than if we had each run alone. Since then I've already run into some of them in the VGH area and it's nice to have a few less strangers in my life."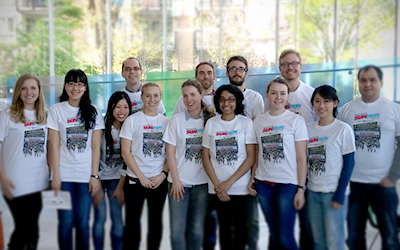 Special congratulations to Chris West and Colleen Lau who were the two fastest runners on the team with times of 37:53 and 49:24, respectively. Well done! We talked with Colleen about the Sun Run and her work as a VCHRI research coordinator.
Q: What do you do as a research coordinator?
A: I manage research in orthopaedics for Dr. Don Garbuz and other doctors in the division of Lower Limbs Reconstructions and Oncology at the Centre for Hip Health and Mobility. I help at all points of research projects from writing grant and ethics applications, to designing procedures for blood ion draws, and to running queries. At times, I manage over 10 projects simultaneously, so I am constantly thinking of ways to work effectively and efficiently. 
Q: Why does orthopaedics research interest you?
A: I am a marathon runner, triathlete, and scuba diver who values health promotion. By managing studies that examine pseudotumour formation and quality of life in patients who had hip or knee surgeries at VGH, I work with award-winning surgeons to push the boundaries of knowledge and to improve surgical practices for the world.
Q: Why did you decide to join the VCHRI Sun Run team?
A: The Sun Run is a great tapering run before the 42.2K Vancouver Marathon in May, and I was excited to run it with a team of brilliant researchers.
Q: What was your favourite part of the Sun Run?
A: My favourite part of the Sun Run was running with someone who inspired me to transcend my body's limitations by running faster than I had planned. Without him, I wouldn't have been in the top two per cent of the female category running at talking speed. Being around others who exert a great level of effort and perseverance in doing something they are passionate about inspires me.
Q: What's the best advice you've ever received?
A: Happiness comes from actively expressing our values and authentic selves, rather than reacting passively to rewards and punishments from the external environment. 
I found this to be true when the data of my master's thesis showed that going above and beyond your job description, and the reward system, is positively associated with work engagement, which is the opposite of burnout. So, paradoxically, going that extra mile makes you feel more immersed in your role. 
Q: If you won a free vacation to anywhere in the world, where would you go? 
A: I would love to stretch my mind and body by exploring different types of water sports in Belize, Hawaii or the Bahamas, or enjoying nature in Australia or South Africa. I would also like to exercise my senses in Italy, Greece, or United Kingdom. However, location is irrelevant if I have fabulous company!