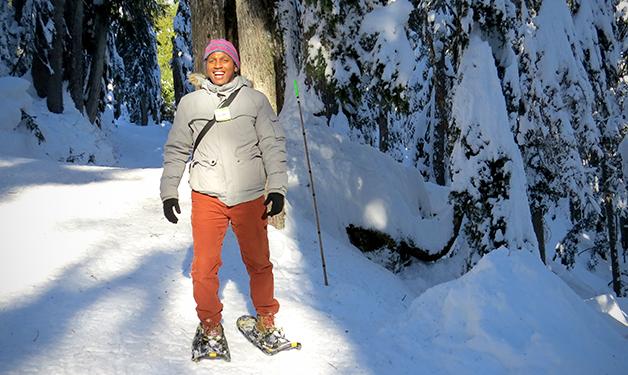 Meet Clayon – He's putting patients at the heart of health research.
Q: What is your research area and why does it interest you?
A: My current research area is knowledge translation, under the mentorship of Dr. Linda Li. Presently, I am building a program of research around patient engagement in research. This is an emerging field in Canada, where patients' involvement as partners in research has had positive contributions to the health research process and its outcomes. 
I believe my post-doctoral research will help to optimize patient-researcher partnerships.  One of my projects aims to develop an outcome measure to capture the impact of engaging patients in research. This type of outcome measure is needed, but not yet available. While the current research tends to focus on the effect of patient-researcher partnerships on the quality of research and benefits to the research team, our work will uniquely contribute to understanding impact from the patient's perspective.    
In addition, I also have the opportunity to lead projects that seek to encourage people with different types of arthritis to be more physically active and less sedentary, using a physical activity counselling intervention. We know that people with arthritis benefit greatly from physical activity; our challenge is to support people to do it. So, we are coupling a Fitbit wearable device with physical activity counselling by a physiotherapist to help us achieve this. 
Q: What has been your proudest achievement so far?
A: This would definitely be finishing my PhD. I feel very privileged to have travelled that journey, which sets the stage for my career as a health services researcher. Coming to Canada as an immigrant from Jamaica, and doing my Master's degree then my PhD has been a wonderful experience. There were several challenges and hiccups over the course of those four years of my PhD, but I stuck with it and worked continuously. Also, I had the extra privilege of being hooded by my PhD supervisor during my convocation.
Q: What's the best advice you've ever received?
A: My mother advised me to surround myself with positive-thinking people. I have valued this advice over the years as I've seen the power of the association you keep.
Q: What do you like to do when you're not working?
A: I like cooking. So when I am not working, I like to take the time to cook a meal from scratch with all fresh ingredients. I just moved to B.C. from Ontario in October, and I look forward to getting out more and exploring nature, including hiking, running and cycling on different trails, visiting the many parks, and sharpening my photography skills. 
Q: What do you see yourself doing in 20 years?
A: I see myself having a repertoire of noted contributions to health care for patients with Arthritis in Canada, and by extension the world, through health services research. By then, I hope to be a full professor at a research intensive university, balancing my time between my research, academic leadership, and my family and friends. I am very interested in health policy, and I hope to be playing a meaningful role in directly shaping health policies within Canada.  
Q: If you won a free vacation to anywhere in the world, where would you go? 
A: I would definitely choose to go to India. India is one of the places I have not yet visited, and I am intrigued by the richness of its culture and would like to stand amidst the beautiful landscapes – experience with all my senses the authentic India. I'm also interested in the country's long and profound history. When I visit India, I look forward to walking among the places walked by humankind thousands of years ago, as well as witnessing the beautiful works of architecture and art left behind.