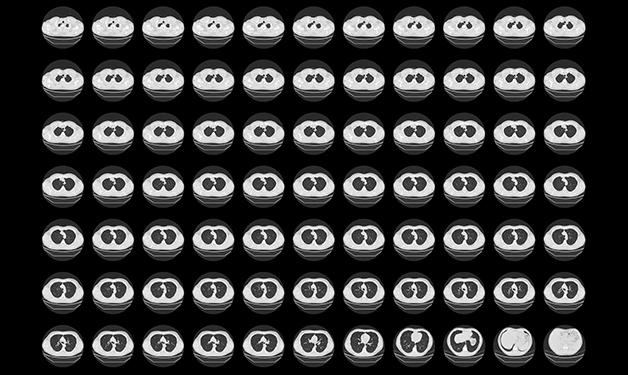 Tool 90 per cent accurate predicting whether or not lung nodules are cancerous.
Lung cancer continues to be the most common cause of cancer death in Canada and around the world. Each year, it kills 20,000 Canadians. That's more than breast, prostate, cervical, and colorectal cancer combined. Although the prospect of surviving clinically diagnosed lung cancer is often bleak, a tool that calculates a person's risk of developing lung cancer offers new hope by allowing for potentially life-saving early detection of the disease.
Vancouver Coastal Health Research Institute scientist Dr. Stephen Lam has been part of the multicenter Pan-Canadian Early Detection of Lung Cancer Study (PanCan), which was a six-year collaborative research effort that in 2014 resulted in the Lung Cancer Risk Calculator. 
The calculator is an effective online tool for clinicians treating patients at high-risk for developing lung cancer who have been identified through a computerized tomography (CT) scan as having one or more spots (nodules) on one or both lungs.
Clinicians use the tool by inputting information about the nodule and other variables, such as the patient's age, gender, family history of lung cancer, etc., into the calculator and it estimates the probability that a lung nodule will be diagnosed as cancer within a two- to four-year follow-up period.
The Lung Cancer Risk Calculator was found to accurately classify a nodule as benign or malignant nine times out of ten, and the PanCan team's findings showing its efficacy were published in The New England Journal of Medicine.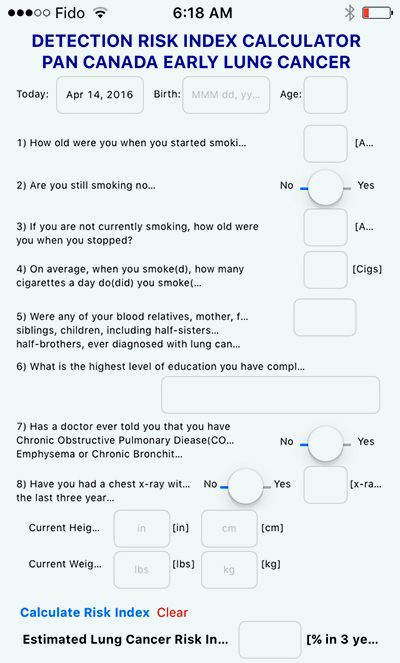 The PanCan team's prediction model, developed by Brock University epidemiologist Dr. Martin Tammemägi, Dr. John Mayo, Head of Radiology at Vancouver General Hospital, and Dr. Lam, makes up for a lack of standard practice guidelines around how to follow-up lung nodules that appear on CT scans.
"There's actually a variable pattern of practice because of the many guidelines around – there's no standard for what to do – e.g. repeat CT scan, PET scan or biopsy – about a nodule found on a CT scan unless they are very big, in which case a clinician would likely biopsy it," says Dr. Lam, Professor of Medicine the University of British Columbia and chair of B.C.'s Provincial Lung Tumour Group at the BC Cancer Agency. "The problematic ones are those that are less than 2 cm – people don't entirely know what to do with those."
Since it was published online, the calculator has been downloaded thousands of times as an Apple App and is also accessible through the Brock University and Terry Fox Research Institute websites. Other research groups have since also validated its efficacy and the U.S. American College of Radiology and British Thoracic Society recommends the calculator as part of their guidelines for nodule management.
"Use of this tool is becoming standard practice around the world," explains Dr. Lam.