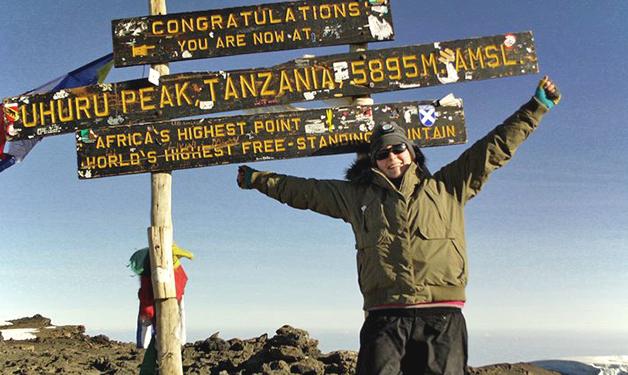 Meet Katie – an opportunity to impact hip fracture health care delivery drew her to research.
Q: What is your area of research and why does it interest you?
A: I work with the Canadian Collaborative Study on Hip Fractures, a national team of researchers, clinicians and policymakers led by Professor Boris Sobolev and Associate Professor Pierre Guy. Using the Canadian Institute for Health Information Discharge Abstract Database we study whether delaying surgery for non-medical reasons jeopardizes survival and recovery after hip fracture.  
During my clinical practice as a physiotherapist, I was struck by the vulnerability of older trauma patients and by the variation in health care delivery. In particular, I saw poor treatment outcomes for many older adults after hip fracture. Even with treatment 30% die within a year, 25% never walk again, and 22% transition from independent living to long-term care. Through research, I believe we can provide policymakers with needed evidence for improvement in healthcare after hip fracture.
Q: What prompted you to switch from a successful career as a physiotherapist to working in research?
A: In the past, I jumped back and forth between clinical practice and research. The opportunity arose for a postdoctoral fellowship in the field of health services research. This field allows me to use both clinical and research hats simultaneously by applying knowledge of front-line practice to evaluate the effects of access and delivery of care on outcomes. I was delighted for the opportunity to join the pan-Canadian team and for mentorship by key figures in the field of hip fracture health services research.
Q: What achievements are you the most proud of?
A: This year I presented research on the effect of treatment setting on outcomes after hip fracture at both the Canadian Orthopaedic Association's annual conference and the Canadian Association for Health Services and Policy Research's annual conference. This research demonstrates a higher risk of in-hospital death at medium and small community hospitals compared to teaching hospitals. It was an incredible honor that the research attracted the attention of both clinical and health services research groups. I will also present this research at the International Society for Quality in Healthcare scientific meeting in Tokyo later this year.  
In my personal life, one of my proudest moments was reaching Uhuru Peak, Mount Kilimanjaro – the top of Africa's tallest freestanding mountain. My friend and I recorded oxygen saturation, activity levels, heart rate and food diaries on the journey – never too far away from research!
Q: What do you like to do when you're not working?
A: Explore Beautiful British Columbia! I fill my summer weekends with hiking trips – my favorites are Lake Lovely Water and Garibaldi Lake. In the winter I like making up for lost time (there is no snow in Ireland) – I took ice-skating lessons, skied at eight resorts in BC and travelled at 99.8km/hr on a skeleton at the Whistler Sliding Centre! 
Q: What's an item that you can't live without when you're working? 
A: Irish tea. When friends and family visit from Ireland they always bring a stock of tea. I need 4 bags of Canadian tea to get it strong enough!