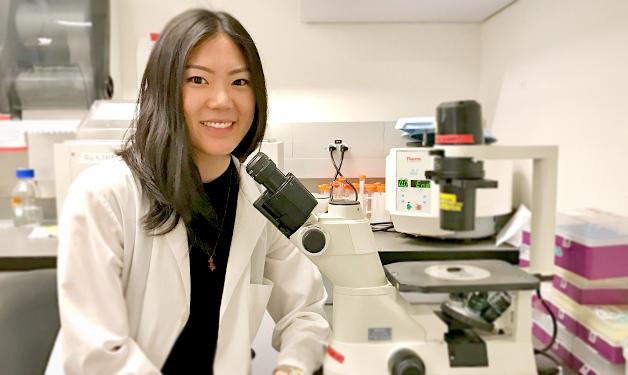 Meet Ahn—researcher of treatment-resistant prostate cancer and community engagement advocate.
Q: Tell us about your research and why you're interested in this area?
A:My research focuses on prostate cancers that are resistant to therapy. In particular, I am investigating aggressive, therapy-resistant neuroendocrine prostate cancer. It is receiving more attention now because the new generation of cancer therapies can actually promote the formation and emergence of this specific type of prostate cancer. Currently, no therapeutics are available to treat patients with neuroendocrine prostate cancer, making this an important area of focus for research and a challenge for young scientists searching for a cure.
Q: Outside of research, how else are you involved in the Vancouver Prostate Centre (VPC)?
A: I am involved in organizing VPC science socials and fundraising for team charity events to promote collaboration, increase trainee extracurricular participation, and raise awareness for cancer research. I do this because I believe the social aspects of my research are just as important as the scientific and academic aspect. Understanding how communities are affected by cancer helps me better understand its impacts on a larger scale and ignites a passion for what I do!
Q: What is your favourite thing to do outside of research?
A: Aside from the typical Vancouverite answer of exploring BC and hiking, my current favorite activity outside of research is mixed martial arts training.
Q: Where do you see yourself in 20 years?
A: I hope to continue contributing to the field of health care as both a medical physician and research scientist.
Q: What would you be doing if you weren't a researcher?
A: I've always wanted to be an archeologist. I find history and ancient cultures very fascinating! I think it would be amazing to go on excavations and uncover historical mysteries. 
Q: What is your favourite vacation spot, or where would you go if you won a trip anywhere in the world?
A: The first country I would want to fully explore is Canada (oddly enough). Although I was born and raised in Canada, I have never had the opportunity to fully appreciate the eco-diversity Canada has to offer. I would be most excited to discover the rich culture, climate and history of the Northwest Territories.