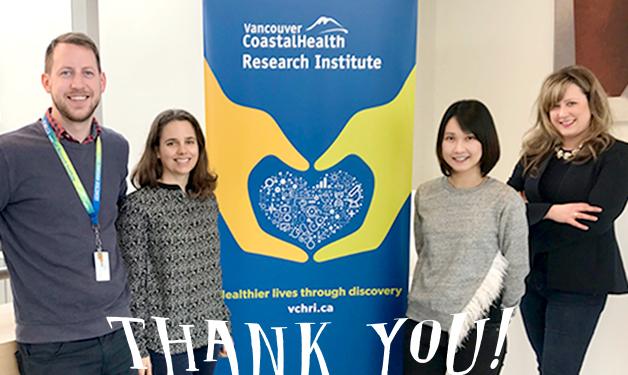 With the support of our research community, VCHRI's communications team leads an award-winning campaign to elevate health research.
Photo above (L-R): Congratulations to Marc Saunders, Meaghan Hume, Vivian Sum, Stephania Manusha and the entire VCHRI team!  
Vancouver Coastal Health Research Institute (VCHRI) has won two international Gold Quill awards from the International Association of Business Communicators (IABC). The awards recognize VCHRI's successful health research awareness campaign that promotes study participation opportunities in Vancouver and connects potential participants to research teams at VCH. The VCHRI communications team was recognized for the campaign's internal communications strategy as well as its marketing, advertising and brand communication. This is the third award for the campaign and communications team, which won an IABC Canada Silver Leaf Award of Excellence last fall.
Health research changes lives
The health research awareness campaign was launched in 2016 to raise the profile of health research in BC and to support research innovation and excellence. The online research directory and the patient newsletter In It Together received an overwhelmingly positive response from our research community and members of the public, reaching over 369,000 people. 
"We are proud to create awareness about a topic that has a significant impact on people's lives and, in tandem, raise the profile of the health care profession," says Vivian Sum, senior communications manager at VCHRI. "I would like to thank IABC for recognizing our work, and acknowledge the incredible team at VCHRI, as well as our researchers and staff, whose support and involvement form the backbone of this campaign."
You've lent a hand, thank you
We sincerely thank our affiliated researchers, research staff, centres and programs who engaged with the campaign and shared our messages about the impactful research underway at many VCH facilities.
We could not have achieved this award-winning accomplishment without the support of our research community and the public. We look forward to continuing to innovate and engage with you for future campaigns.