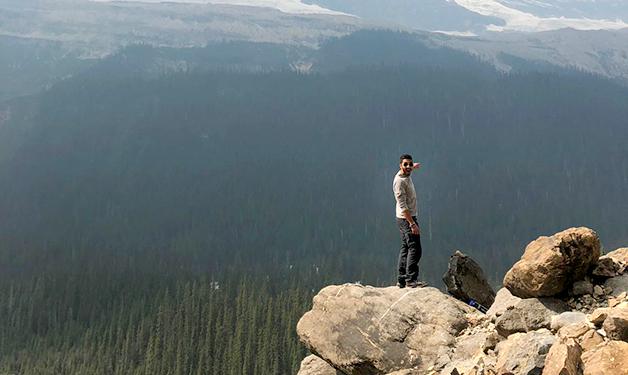 Meet Stefano—striving to solve the Parkinson's puzzle.
Q: What is your role in health research and area of interest?
A: I first came to the University of British Columbia (UBC) as a visiting scholar to fulfill a requirement of my undergraduate degree from the University of Ferrara in Italy. I had the opportunity to work with Dr. Matthew Farrer in the Centre for Applied Neurogenetics and study Parkinson's disease in genetic rat models. This work led to the successful completion of my degree. I then joined Dr. Farrer in the Neuroscience graduate program to continue my research of Parkinson's disease. 
As a scientist, I aim to understand how something works and learn how to fix it when it's not functioning properly. I am attempting to discover what leads to Parkinson's. The long term goal is to prevent the disease from happening or stop it right at the start.
Q: What's the best part of your job as a researcher?
A: When working in science, doing experiments can sometimes be frustrating as it involves a lot of repetition and troubleshooting to make it work. But when, after many attempts, it finally works – that's one of the best feelings in the world.
Q: Who inspires you?
A: I have been lucky to be surrounded by many brilliant, inspiring minds in my research jobs. But I am most inspired by the people who will benefit from our science. I volunteered with the Parkinson Society of British Columbia and got to witness firsthand the strength of people affected by the disease. It was amazing to see that, as well as their enthusiasm and gratitude towards scientists. Their support of science was a big motivating factor for me to keep pursuing this research.
Q: What was your first job?
A: For my first job, I was a promoter for a club and concert arena back home in Gallipoli, Italy. It was great because I got to interact with a lot of tourists, sharing part of my hometown with them and making sure they had fun during their holiday.
Q: What's your favourite book?
A: As a neuroscientist I have always been attracted to psychological books. In particular, I loved Fight Club. The way the author described the psychological state of the protagonist's mind and how it was affected by society around him was so compelling and entertaining.
Q: What has been your biggest accomplishment so far?
A: This year I completed my PhD at UBC and had my thesis work published in the scientific journal Nature, which was my biggest career accomplishment so far. 
But I think the biggest personal accomplishment was being able to attend the 2017 Gordon Research Conference for Parkinson Disease and being chosen to give a presentation there. That experience opened doors for me to further my research career.
Q: What's next for you?
A: Shortly after completing the defence of my thesis, I was offered a post-doc research scientist position at Columbia University in New York to study how Parkinson's affects motor learning and complex cognitive abilities.
My experience at the Vancouver Coastal Health Research Institute and UBC helped me thrive in the neuroscience research world. The staff, administration, colleagues, everybody works together towards the success of students. Now it's up to me to keep moving my career forward.