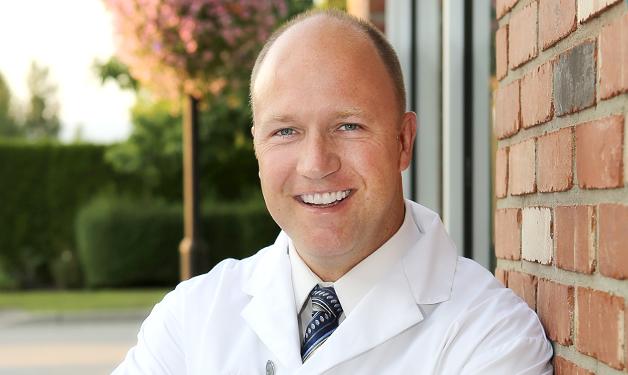 Get to know the new associate director at VCH Research Institute.
On March 1, 2019, Dr. David Granville was appointed to the position of Associate Director of the Vancouver Coastal Health Research Institute (VCHRI). In this role, he will oversee innovation and research activities within the VCH research community, including the internal awards program, medical animal facilities, Legacy Research Program, Centre for Heart and Lung Health and the Immunity and Infection Research Centre.
Dr. Granville brings with him a wealth of experience in research excellence, innovation and commercialization. He is a professor in the Department of Pathology and Laboratory Medicine at the University of British Columbia (UBC). He is also the associate director of the BC Professional Firefighters' Burn and Wound Healing Group in the Division of Plastic Surgery at UBC, scholar of the Royal Society of Canada, fellow of the American Heart Association and former MSFHR Scholar, Canada Research Chair and Canada Top 40 Under 40 recipient. His current research is focused on tissue injury, inflammation and repair, and factors that impede wound healing in various tissues and diseases. He is also developing first-in-class therapeutics for potential use in a number of autoimmune and chronic inflammatory diseases.
Q: What is your vision for VCHRI? 
A: The biomedical and clinical research capacity within VCHRI and potential to accomplish great things is enormous. My vision is to continue to expand on the innovative and collaborative approach we take at VCHRI and improve integration and collaboration across facilities and disciplines. I will work to build upon our strengths, identify opportunities and expand our global outreach. I will also work to expand our connections with industry and other stakeholders to create more opportunities for the next generation of care providers, as well as knowledge, innovation and entrepreneurial leaders. 
Q: How does health research make a difference?
A: Anyone who has experienced a serious illness or seen a loved one in pain knows the devastating impact trauma, mental health and disease can have on our lives. One of the most precious things we have as human beings is our health. Each day, researchers are conducting investigations that bring us ever closer to uncovering innovative approaches, diagnostics, devices, treatments and other technologies to improve the lives of patients and their loved ones. Whether in the lab, in a health care facility, at home, work, an accident scene, or in the pharmacy, research is behind how we deliver and experience health care.  
Q: What is your favourite quote?
A: Louis Pasteur once said that "chance favors the prepared mind". When I think of some of the major discoveries I have made in my career, most were serendipitous, unexpected discoveries that we chose to pursue further. The key was being prepared by understanding the challenges and gaps in knowledge, along with knowing the literature and discussing and sharing the results with others.
Another quote, and I am not sure who said it first, is "the key to intelligence is the realization that you do not know everything". Gone are the days of the introverted scientist that refuses to work with others. With the emergence of so much knowledge and expertise, the need to form multi-disciplinary teams has never been greater. Trust, relationships and working in teams is essential. We need to better enable interaction—amongst various disciplines and in informal environments—that permits the open flow of ideas and information exchange.
Q: What quality do you most admire in a leader?
A: A good leader is someone who leads by example and instills and values honesty, integrity, hard work, equality and respect. A leader must recognize, appreciate, and value the input, well-being and opinions of the people he or she works with. A strong leader understands the big picture, identifies gaps, recognizes opportunities and knows how to gain buy-in from team members and all stakeholders to execute the plan. A great leader must value and respect his or her co-workers. I have always admired leaders whose team members report feeling like they are working with the leader, not for the leader, to reach a common goal.
Q: How will you spur research innovation? 
A: Much can be done to foster better interactions across the research community at VCHRI. I would like to explore ways to bring people and groups together. The first steps will be to listen to the needs, concerns and goals of the research community. My intent is to assist in any way I can to provide the tools and capacity researchers need to excel at what they do best. I would like to explore how science, computing and engineering can be better integrated into all areas of medicine within the hospital to promote efficiency and better care.
The VCHRI research team is comprised of some of the brightest and most accomplished minds. As a research institute, our job is to remove as many obstacles as possible from their path so that they can be free to conduct the innovative research that is making a difference in the health of our communities.